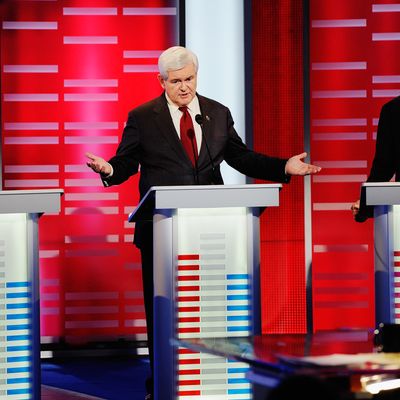 Newt Gingrich in the spotlight during yesterday's debate while his top competition watches on.
Photo: Kevork Djansezian/2011 Getty Images
For Mitt Romney, last night's debate in Des Moines, Iowa, was all about stopping the building Newtmentum. It would be an understatement to say that he royally chickened out. (His one good potshot was when he told Newt Gingrich that "K Street is not the private sector.") Gingrich, now even more front-runner-y than ever, was the one fielding attacks from the other candidates, on everything from his past remarks on a lunar colony to his recent incendiary comments on the Palestinians (which he seemed to double down on) and even the question that so many political pundits believed would eventually undermine him, his history of marital infidelity. But the former Speaker skillfully brushed off even that question — which was rather torturous with Gingrich going last — replying that it was up to the American people to "render judgment" and that he'd already gone "to God for forgiveness."
Runner-up in the debate was, most observers agree, Minnesota congresswoman Michele Bachmann, who fiercely attacked both Gingrich and Romney over their past support of the individual health-care mandate, their sometimes less-than-conservative records, and even coined a new buzz-worthy term that we hope won't stick: Newt Romney. Post-debate, Bachmann showed up at her campaign headquarters in quite the victorious mood: "ABC News said I won the debate! Let's call it even and say I won Iowa!" That's jumping the gun a little, Michele, but guess in this GOP race you're not out until you're truly out.
Rick Santorum was a near nonentity (for a change), and Ron Paul — at second or third in several Iowa polls, neck and neck with Romney — phoned in his usual consistent, if not exactly memorable, performance. (Jon Huntsman's poll numbers remain so low in the state that he did not even qualify to participate.) Texas governor Rick Perry certainly didn't do his faltering campaign any more damage than the recent anti-gay ad scuffle already had, and can even be pleased that he got Romney to bet $10,000 that no health-care comments were deleted between editions of his latest book. (Because that's totally relateable to most Americans for whom, according to the DNC, that would amount to about four months' pay.) Perry, for once, slickly parried that with an "I'm not in the betting business." Below, the clip in all its self-immolating glory.