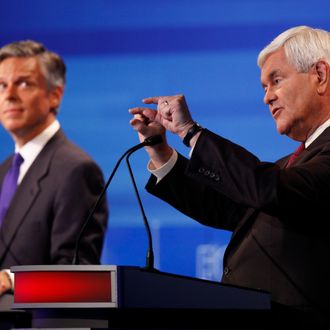 Gingrich illustrating how much he, himself, earned off Freddie Mac. (Charlie Neibergall-Pool/Getty Images)
Photo: Pool/2011 Getty Images
Newt Gingrich may remain the ostensible front-runner going into the Iowa caucus home stretch but already cracks are starting to show. Today in a teleconference, the former Speaker admitted that "the extraordinary negativity of the campaign" was starting to take its toll on him and his bid for the presidency. Foremost in Gingrich's mind was the drubbing he took in Thursday's debate over the $1.6 million Freddie Mac paid him. Said Michele Bachmann: "You don't need to be within the technical definition of a lobbyist to still be influence peddling."
Here's the defense he proffered, complete with that signature Gingrich nuance.
I just want to set the record straight. We had a company. The company had three different offices. We were paid annually for six years, so the numbers you see are six years of work. Most of that money went to pay for overhead, for staff, for other things that didn't go directly to me.
Not that that was what really bothered voters and pundits. For conservatives, seemingly any connection to Freddie Mac is suspect, and now more than ever — several of the agency's top executives were recently charged with fraud by the SEC.