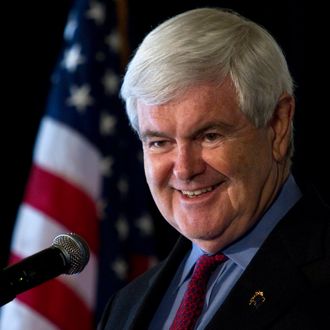 The king of positive.
Photo: John W. Adkisson/2011 Getty Images
The eyes and scorn of the other candidates have turned to Ron Paul, whose lead in Iowa has remained steadfast. That group of sharp critics includes Newt Gingrich, who had some fighting words for Paul on Tuesday despite a promise to Wolf Blitzer to run some kind of positive campaign:
>
"He's attacking me for serial hypocrisy and he spent ten years out of earning money off a newsletter that had his name that he didn't notice," he said. "He's got to come up with some very straight answers to get somebody to take him seriously. Would I be willing to listen to him? Sure. I think the choice of Ron Paul or Barack Obama would be a very bad choice for America."
Obviously Paul has gotten enough Iowa voters to take him seriously so far, although Newt described Paul's popularity as that of a "protest"candidate.   Gingrich also said, in response to a question from Blitzer, that he wouldn't vote for Paul if Paul won the Republican nomination.
Later in the interview, aired on CNN with the banner "Will Gingrich Take the Gloves Off?" Gingrich said he would stay "totally positive" despite the barrage of Iowa ads tearing him down. The former House Speaker framed his so-called "positive" campaign as an opportunity for Iowans to send a message about negative campaigns: "Negative ads written by dishonest consultants on behalf of irresponsible candidates do not deserve getting votes."