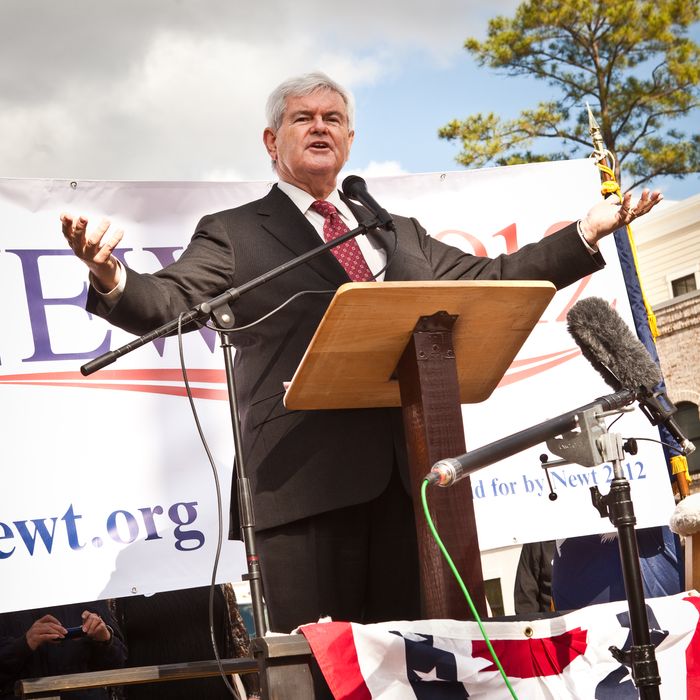 Newt Gingrich in SC. (Richard Ellis/Getty Images)
Photo: Richard Ellis/Getty Images
As he seemingly coasts to a first-place finish in the Iowa caucuses, Newt Gingrich knows he is in for a heavy drubbing from the Romney campaign and the much-anticipated reairing of several hampers' worth of his dirty laundry. Which is probably why he agreed to sit for an interview appearing in next week's Newsweek magazine, where he speculates on when the Newtmentum began (the debate where he berated Fox News' Chris Wallace for "playing Mickey Mouse games"), describes Mitt Romney and Rick Perry "acting like seventh graders" in the debates, and tells Peter J. Boyer that just a few months ago, as his fund-raising slowed to a $167,000 trickle in July, he'd about had enough and made up his mind to exit the GOP field. Enter Newt's platinum-helmeted wife Callista, his rock, who talked him out of quitting.
Though many of Gingrich's original staff — all those people who left Gingrich's faltering campaign over the summer and are now kicking themselves — "resented" Callista; she is, it seems, more a part of her husband's campaign than most political wives, even taking it upon herself to redesign Newt 2012's "swoosh-y" logo. And to charges that she is a constant reminder of Gingrich's core hypocrisy — trying to impeach Bill Clinton over the Monica Lewinsky affair while himself having an affair with young legislative aide Callista — Newt throws out a careful disclaimer. He wasn't going after Clinton for the infidelity, no siree, it was the fact that he lied under oath about it. Wonder how many Democrats and independents, many of whom still wildly approve of Bill Clinton, will appreciate such a fine distinction.
Perhaps the most interesting moment in the interview was when the candidate attempted to characterize how a Gingrich White House would tackle difficult issues, referring to a recent speech he'd given.
In the speech, he said that when the Wright brothers were experimenting with the first airplane, they'd bring extra wood along for repairs, because they knew there would be lots of crashes along the way. That, he says, is how a Gingrich administration would approach an intractable problem like poverty. "So, we're gonna help the poor?" he asks. "Truth is, we don't know how to help the poor. We're gonna experiment and experiment and experiment until we break through." That may not please the ear of a small-government conservative, but it is the essential Gingrich. "It makes me, in some ways, like the two Roosevelts," he says.
That's the way to cement your GOP support — compare yourself to Mr. Big Government "New Deal" Liberal himself.