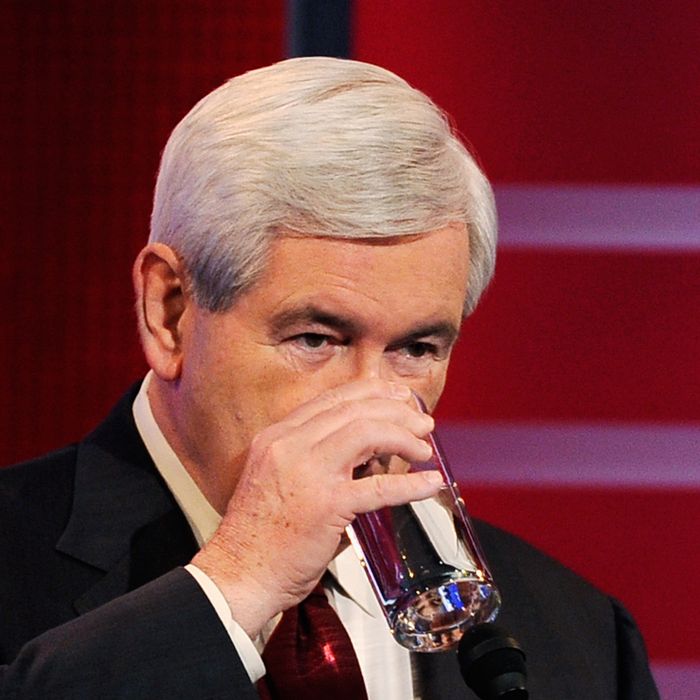 Just play it cool, Gingrich. Real cool.
Photo: Kevork Djansezian/2011 Getty Images
Only one debate remains between now and the all-important (unless Ron Paul wins, in which case we can all pretend it never happened) Iowa caucuses on January 3 … and that debate is tonight! (New York's John Heilemann will be live-tweeting at @jheil.) The current state of the Iowa race: Newt Gingrich, in accordance with the laws of this primary campaign, is sinking fast from his front-runner's perch after people started to, you know, learn things about him. A new Rasmussen poll even shows Romney taking a slim lead over Gingrich and an ascendant Paul. At this point, any three of those guys has a realistic chance to take Iowa. There's also Rick Perry, who is somewhat lazily making a last-ditch effort in the Hawkeye State, as well as a bunch of other losers with no shot.
With that in mind, what will the debate look like tonight for each of its participants?:
Mitt Romney: He'll continue his kitchen-sink fusillade against Gingrich — his lobbyist work, his "zany" temperament, and that time he sat next to Nancy Pelosi on a couch. He will also attempt, unsuccessfully, to replicate human laughter.
Newt Gingrich: He'll have the biggest challenge tonight, which is defending these attacks and returning fire without coming across as a sneering, unlikable ogre. Gingrich told an Iowa radio station this morning that one of his core principles is "stay[ing] positive despite temptation." There's going to be plenty of temptation tonight, and we're pretty sure he'll succumb almost immediately. 
Ron Paul: Paul does the same exact thing every debate — namely "be Ron Paul." He never seems to have much of an agenda aside from promoting his libertarian philosophy. It's working for him, so expect that to continue. Also, however, for reasons that are not entirely clear, Paul has relentlessly attacked Gingrich over the past few weeks, while leaving Romney almost completely untouched. Paul and Romney may end up double-teaming Gingrich the whole night, and yes, we immediately regret writing that phrase.
Rick Perry: Perry hopes that casting himself as an outsider, albeit a barely coherent one, can give him an edge over "insiders" Romney and Gingrich. So expect him to do something very outsider-y tonight, like promise to move the White House to an empty field in rural Iowa.
Michele Bachmann: She will very subtly work the phrase "As a native Iowan … " into every one of her answers.
Rick Santorum: Who cares.
Jon Huntsman: He's been making slow and steady progress in New Hampshire, but not enough. Saying something memorable in a debate for once might help.