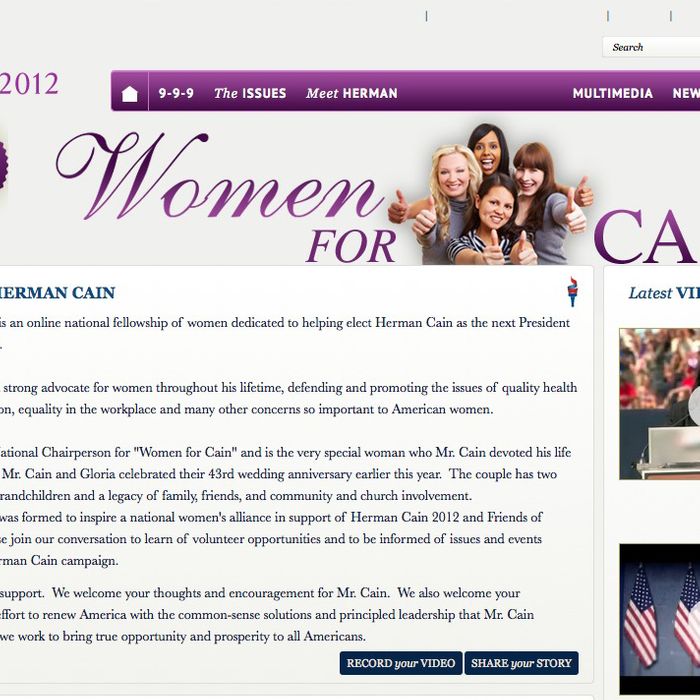 One tip-off that your marriage might be in trouble: It is national news that you are going to sit down and talk to your wife, in the same room. Today's much touted Wife Summit, in which Herman Cain will ask his wife Gloria whether she wants him to continue campaigning, probably won't go so well. Call it a hunch. After all, at the current rate, he'd probably be up to several dozen more sex scandals by the time the New Hampshire primary comes around, which doesn't seem totally fun for her. Of course, a no-way-in-hell answer from Gloria could give Cain just the out he might secretly be ready for —blaming the wife, even when she's got plenty of reason to blame the husband, is a tried-and-true tactic for political end-runs. 
According to the Daily Beast's Allison Samuels, the Cains' marriage was on the rocks long before it became so very public.
A close friend of one Cain's two children explained that Herman and Gloria Cain's marriage has seen its share of trouble over the years and his attraction to other women always played a huge role in the friction.

"It never felt like a real marriage when I was around them,'' says the friend. "Mostly he was always gone and his wife seemed to be OK with it. Not being together seemed the norm for their marriage, and Gloria didn't seem to mind. His kids didn't seem to mind either. ''

[…]

Several people who know the Cain family say Gloria and Herman have even lived in separate residences over the years. "They stayed together for good face. They're old school where you stay just because. Herman likes to give the appearance of living this holier-than-thou life. But it's anything but," says someone close to the family.
Samuels also cites "sources close to the campaign" who say Gloria Cain wants her husband to end the campaign and the attendant embarrassment its brought her. Which, again, is entirely unsurprising. What is surprising is the Cain campaign's damage-control methodology. They've launched, as a subsection of his website, Women for Herman Cain, which includes testimonials from supporters like this one: "Dear Mrs. Cain, don't pay attention to these pathetic husbandless women who are jealous of women like you in happy long-term marriages. These vindictive women can't find a husband or keep one. They are like stalkers who try to latch on to any man who shows a bit of kindness or attention to them."  Publishing that charming little sentiment was definitely a good way for Cain to prove that he has "been a strong advocate for women throughout his lifetime." Definitely. And the design decision to use a carefully selected stock photo entitled, "Four happy young women holding their thumbs up," only reinforces that visceral Cain aura of thoughtful advocacy on behalf of womankind everywhere.