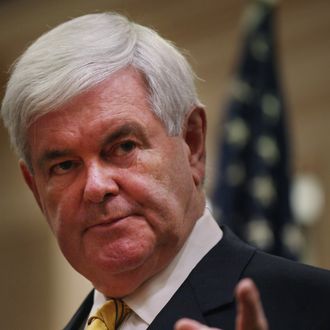 Am I not pretty enough for you? Too old? What, am I not thin enough?
Photo: Spencer Platt/2011 Getty Images
The narrative behind all the other narratives in the GOP primary race, up to and including the current "Newtening" story line, is that the GOP base is fundamentally dissatisfied with every single one of the choices with which they have been presented.
Here's the thing about rich people, though: When they don't like their choices, they try to buy another one. That sort of learned pattern of behavior is really the only explanation for why a small group of GOP donors is reportedly trying to get a more attractive "dark-horse" candidate on the ballot in certain states with late filing deadlines, in hopes of forcing a brokered convention. From The Wall Street Journal, via Red State:
Efforts are underway by some wealthy Republican donors and a group of conservative leaders to investigate whether a new Republican candidate could still get into the presidential race. … The deadline to qualifying for the ballot has passed in Florida, South Carolina, Missouri, and New Hampshire. But a candidate could still get on the ballot in states like Tennessee, Oklahoma, Louisiana, Michigan and Texas. At the first-in-the-nation Iowa caucuses, voters write in their choice, so there is no formal filing deadline.

The chatter about potential new entrants include former New York Mayor Rudy Giuliani, Indiana Gov. Mitch Daniels, businessman Donald Trump, Rep. Paul Ryan of Wisconsin and South Carolina Sen. Jim DeMint.
Also, they would like a pony. And dessert BEFORE dinner.