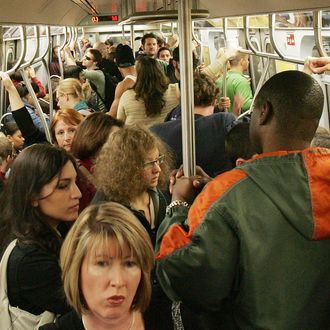 Cover your mouth.
Photo: Mario Tama/Getty Images
A government advisory board has, for the first time, asked some scientific journals to take it easy with the details of new biomedical experiments, just in case the terrorists are paying attention. Scientists successfully transmitted a deadly flu virus among ferrets, a good human indicator, but they should probably keep that information to themselves, especially "experimental details and mutation data that would enable replication of the experiments," the panel recommended.
>
The virus, A(H5N1), causes bird flu, which rarely infects people but has an extraordinarily high death rate when it does. Since the virus was first detected in 1997, about 600 people have contracted it, and more than half have died. Nearly all have caught it from birds, and most cases have been in Asia. Scientists have watched the virus, worrying that if it developed the ability to spread easily from person to person, it could create one of the deadliest pandemics ever.
…

"This finding shows it's much easier to evolve this virus to an extremely dangerous state where it can be transmitted in aerosols than anybody had recognized," he said. Transmission by aerosols means the virus can be spread through the air via coughing or sneezing.
Editors and scientists at the journals, Science and Nature, say they understand the risks and aren't crying censorship, but instead see the provisions as setting a precedent for "a culture of responsibility." BUT:
Given that some of the information has already been presented openly at scientific meetings, and that articles about it have been sent out to other researchers for review, experts acknowledged that it may not be possible to keep a lid on the potentially dangerous details.