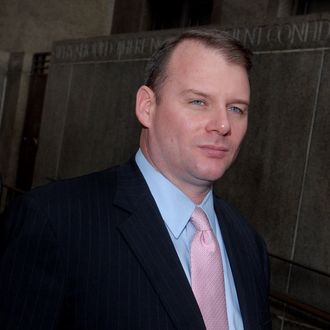 Photo: Gregory P Mango/Splash News/? www.splashnews.com
"Your honor, as you know, this is an exceedingly unusual case," former New York Attorney General Dennis Vacco said in Manhattan criminal court this morning. He was there to argue that his client, political operative John Haggerty, did not deserve to go to prison after being convicted of larceny and money laundering. The victim: Mayor Bloomberg.

Career politicians from Buffalo are not necessarily assets in a Manhattan courtroom. But considering Haggerty was once an aide to Vacco, the choice to deploy him in court along with co-counsel Raymond Costello must have seemed sensible.  Haggerty was facing up to fifteen years in state prison. Lead prosecutor Eric Siedel asked that the judge impose a sentence of four to twelve years in prison, pay back upwards of $700,000, sell his father's house that he purchased with the funds, and pay a fine of $1.5 million.
"What are you trying to do, kill him? The death sentence is not legal in New York anymore," said Costello.

The atmosphere in court got so tense, with both sides accusing the other of irresponsible lawyering, that at one point Costello rose from his seat to challenge Seidel, who pointed a finger at his gut.

"You sit down," Siedel yelled. "I didn't interrupt you."

"It's not personal," Vacco chimed in later, but what looked  like a beady stare down of Siedel seemed to suggest that maybe it was, considering Siedel once worked for Vacco in the Attorney General's office and left after a year.  

Meanwhile, Haggerty sat at the defense table motionless, listening to excerpts read from nearly 50 letters sent to the judge in his defense, including former Democratic senate minority leader Martin Connor, former Pataki chief of staff John Cahill, and even Haggerty's ex-wife.

When it came time for him to address the court, Haggerty spoke in conciliatory tones, contritely atoning for his sins.

Then the verdict came down, and Haggerty was escorted away by a court officer to do one-and-a-third to four years in prison, well below what prosecutors were asking for, but still a tough stint for a middle-aged politico.

Explaining his decision, State Supreme Court Justice Ronald Zweibel said that it wouldn't be fair to give a sentence of probation to Haggerty because the stakes here were so tangled up in the public interest and electoral process. The judge felt he needed to make an example of to deter future crimes in the public arena.

Breaking down the judge's verdict in the hallway after the case, Vacco blamed the system. The seductive combination of money and politics is so powerful that the judgment of operatives like Haggerty can get cloudy, Vacco said, and he knew all about it.

"If I didn't lose [to Eliot Spitzer] I'd be in Albany right now," he told reporters.