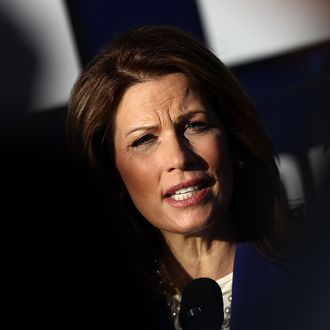 Michele Bachmann dodges questions in Iowa this morning.
Photo: Win McNamee/Getty Images
Impolitic is back on the ground in Iowa for the duration, the national affairs desk fully set up on the 27th floor of the Des Moines Marriott, with a satellite pod now being installed in the hotel's new lobby bar. I spent the day yesterday with Ron Paul, about which more tomorrow. But at Paul's final event last night, a veterans' rally at the Iowa State Fairgrounds, an incident took place that might seem quite trivial, but which in fact has important implications for two players: Michele Bachmann (very bad) and Rick Santorum (very good).
The event in question was a shockeroo move by a fellow named Kent Sorenson, an Iowa state senator from Indianola who had been Bachmann's campaign chairman here, traveling with and acting as a key surrogate for her for months. Last night, however, Sorenson, just a few hours after appearing with Bachmann at an event in his hometown, took the stage at the Paul rally and declared that he had switched his allegiance to the Texas congressman.
This turn of events prompted Bachmann to allege that Sorenson had effectively been bribed to pull a Benedict Arnold maneuver: "Kent Sorenson personally told me he was offered a large sum of money to go to work for the Paul campaign," the Minnesota congresswoman said in a statement, and then repeated the charge this morning at a media availability in Des Moines. Sorenson denies the charge, as does Bachmann's own political director, Wes Enos, who is still serving her campaign.
Your columnist attended the avail and found the story that Bachmann is telling a little curious. Bachmann claimed that the conversation between Sorenson and her when he supposedly revealed the Paul payoff occurred on Tuesday. Then, she says, Sorenson informed her and several people on the campaign that he had decided not to flip. Then, apparently, he changed his mind more or less on the fly; Sorenson says he only told the Paul campaign he wanted to climb onboard a few minutes before the veterans' event.
What struck me as curious about all that? Well, if Bachmann learned that the Paul campaign was trying to bribe her campaign chairman into switching sides on Tuesday, why on earth did she not alert the media immediately? Bachmann has been hammering Paul for days on multiple fronts, and such an attempted dirty trick would certainly have warranted criticism and drawn plenty of media attention, which heaven knows Bachmann is starving for. At the media availability, I asked the candidate to explain why she had remained mum. She reiterated the point that she believed that Sorenson had decided to stay with her. To my mind, this answer was non-responsive; indeed, if Sorenson was sticking with her, Bachmann would have all the more reason to reveal the Paul campaign's mendacity. So I repeated and tried to clarify my question. At which point an aide pulled Bachmann away from the microphone and said there would be no more questions (after she had answered only three). Given Bachmann's record when it comes to truth and falsehood — starting with her lies about the HPV vaccine and extending to countless other topics — the benefit of the doubt on this story does not belong to her.
It should be obvious why this episode is bad for Bachmann. Beyond losing a key campaign backer, the sight of previously loyal rodents scurrying off a sinking ship is the clearest sign imaginable that they think the ship is, you know, sinking.  When Sorenson was asked why he'd switched to Paul, he explained to Time.com's Swampland blog, "I believe that we have a clear top-tier race. I believe that is between Ron Paul and Mitt Romney." Left unsaid but plainly implied by both Sorenson's words and deeds is that he has concluded that Bachmann has no chance of breaking into that top tier.
There is evidence aplenty that Sorenson is right. After weeks of seeing no upward movement in her poll numbers, Bachmann was greeted with a brutal blow by a Time-CNN survey released yesterday, which found that she had slipped into sixth place — the result of a sudden rise by Santorum from the low single digits to 16 percent, putting him in third. That finding was replicated even more harshly for Bachmann this morning by a Rasmussen Reports poll that put Santorum in third and Bachmann in sixth — the former with 16 percent and the latter with a measly 5.
The meanings of all this are several and potentially quite significant. For months, professional caucus-watchers in the political-media industrial complex have been wondering if and when the cultural conservative/Christian right vote (which has historically made up about 40 percent of the Republican caucus electorate here) would coalesce around a single candidate and, if it did, who that would be. It now appears that we may have an answer: With Perry stalled, Gingrich fading, and Bachmann collapsing, Santorum is in the best position to consolidate the support of evangelicals in the last days before the caucuses, and in so doing give himself a top-three finish and a ticket out of Iowa. Indeed, if Santorum can drain away enough votes from those three rivals, he might even do better than third — which would be a hell of a curve ball in the face of the quickly congealing expectations that Paul and Mitt Romney will take the top two prizes.
And this, in the end, is why the Sorenson switch matters: Sure, it hands a nice little boon to Paul, but more important, it provides Santorum with fodder for his argument that he, not Bachmann, is the most viable social conservative in the race; and it sends a signal from a prominent Iowa political player to the Christian right that a vote for Sorenson's previous pony is, in fact, a wasted ballot.
Bachmann, naturally, is not ready to accept that verdict. With a captive media at her avail, she stood there next to her campaign bus and read a long statement from her iPad about the defects of her Republican rivals ("frugal socialists," she called them), the depredations of Barack Obama (an "out-of-control socialist"), and the assets and attributes of her own that make her the best choice for Iowa Republicans on January 3.  But after months of hearing her make her case, too small a number of those voters are inclined to agree — and the departure of Sorenson augurs a future in which that number dwindles inexorably ever closer to zero.