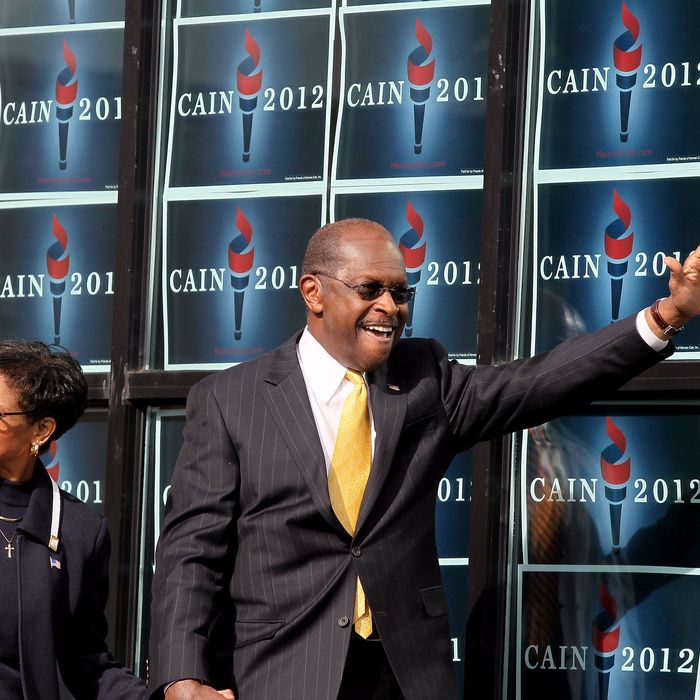 Herman Cain. (Chip Somodevilla/Getty Images)
Photo: Scott Olson/2011 Getty Images
A little before 1:30 p.m., Herman Cain's campaign bus drove up to an Atlanta rally of 200 or so supporters and out stepped the candidate with his wife, Gloria. Her appearance at her husband's side, all smiles and waves, along with the festivities leading up to that moment — barbecues, live music, an atmosphere of a "summer picnic" — at least had the Times' Southern correspondent Robbie Brown doubting whether this was, in fact, going to be the end of Herman Cain's campaign, as Politico reported last night. At first, Cain's remarks were self-congratulatory ("If you look at the top three republican candidates right now and you consider the President in the White House, we can say, I'm in the final four!") and staunchly defensive regarding the "false and unproved accusations" against him (most recently that he had a thirteen-year affair), a phrase he used three times in almost as many minutes. So maybe he was going to stick it out after all. And then the turn. >
Now, that being said, becoming President was Plan A. But before you get discouraged, today I want to describe Plan B. So as of today, with a lot of prayer and soul-searching, I am suspending my presidential campaign. [Crowd: Awww!] I am suspending my presidential campaign because of the continued distraction, the continued hurt caused on me and my family, not because we are not fighters. It's just that when I went through this reassessment of the impact on my family, first, the impact on you my supporters — your support has been unwavering and undying — as well as the impact on the ability to continue to raise the necessary funds to be competitive, we had to come to this

conclusion.
Plan B, apart from bowing out of the race, also involves Herman Cain launching a new website, TheCainSolutions.com, where he says he will continue promoting, among other policies, his 9-9-9 plan, which he describes grandiosely as "the biggest change and transfer out of Washington D.C. back to the people since this nation began." Setting the stage, perhaps, for that $3.75 million Fox News and speaking tour payday Intel explored a month ago?
The only other news out of Cain's speech was that he will be making an endorsement soon, sure to spark a frenzied media guessing game. (It has to be Newt — aren't they always saying they're like best buds? What about fellow southerner Rick Perry? But what if he has campaign debt and throws his weight to Romney for a handout? Oh, the suspense!) Not wanting to let anyone else start that ball rolling, Cain gave us a little hint.
I will be making an endorsement and I can tell you right now it will not be the current occupant of the White House. That will not be my endorsement.
Shocker!
To cap it all off, Cain once again quoted his favorite inspirational lines from "The Power of One," a Donna Summer song. "I believe these words came from the Pokémon movie," he said — which knowledge he apparently acquired thanks to some Intel sleuthing back in August.
Update: The Times' Robbie Brown tweets that a "popular refrain among #Cain supporters: 'John McCain suspended his campaign too, in '08.'" Wishful thinking? Most likely. McCain was able to get back in the race four years ago because the rest of the field had torn each other apart and left no one really intact. Romney and Gingrich are looking pretty solid at the moment, leaving little breathing space for the remaining candidates, much less a Cain comeback. Although seems neither of the frontrunners are getting any love from distraught Cain supporters, according to The Daily Beast's Patricia Murphy, who spoke with several throwing their lot in with Rick Santorum. She also interviewed Cain on his final walk to the campaign bus, who said: "I'm going to Oklahoma tomorrow, going to give a speech at a Republican event that has already been planned. I told you, I'm not going to be silenced.  I'm still going. I just won't be going as a candidate."