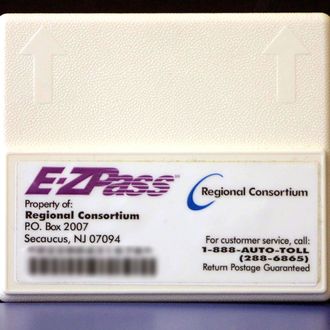 More and more drivers are trying to cheat the tolls at the city's bridges and tunnels, and their tactics are getting rather creative according to the Port Authority of New York and New Jersey.
Tolls increased on crossings such as the George Washington Bridge and Holland Tunnel in September, from $8 to $12 for cars, and from $40 to $65 for five-axel trucks, which could explain the recent rise in cheating. Motorists typically target gateless E-ZPass lanes where cameras record the license plate numbers of vehicles that pass through without paying.
Earlier this month, a vehicle was stopped after entering the Holland Tunnel with a fake cardboard license plate, according to The Associated Press.
Other cheaters caught by the Port Authority this month:
—On Dec. 2, a car carrier was stopped for having an illegal E-ZPass transponder; the company that owns the vehicle was found to owe the Port Authority more than $250,000 in unpaid tolls and fees.
—On Dec. 13, another vehicle tried to enter the Holland Tunnel with a license plate on its dashboard where it couldn't be read by the E-ZPass machine.
—On Monday, a truck tried to cross the George Washington Bridge with tar covering part of its rear license plate.
—On Wednesday, a car tried to enter the Holland Tunnel with duct tape over some of the numbers on its license plate.
It is illegal to drive a car without a visible license plate, though motorized retractable license plate covers are sold online. Product descriptions note the law and list auto shows and off-roading as intended uses.
The average fine for toll cheating is $500, according to a spokesperson for the Port Authority.
Last year, cheating the E-ZPass lane cost the Port Authority $6.8 million.