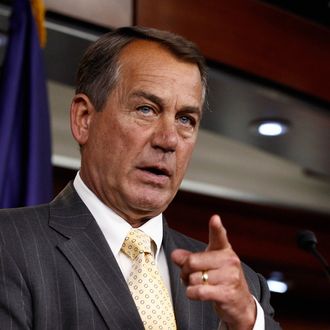 John Boehner.
Photo: Chip Somodevilla/2011 Getty Images
'Twas the week before Christmas, when all through the House, sat a set-aside two-month Senate payroll tax compromise, leaving the break for 160 million Americans in serious doubt.
The protracted face-off, filled with posturing and politicking, is laughable at this point. On Tuesday, after delay, the House voted by a 229 to 193 margin to set aside a Senate bill that would have preserved the payroll tax cut for two months while Congress worked on a yearlong extension. The Senate bill passed 89-11 with much support from Senate Republicans. Rather than vote on the bill, the House requested a bicameral conference with the Senate — which is not currently in session — to hammer out differences between the parties.

Senate Majority leader Harry Reid dismissed that idea, writing in a statement that he would be happy to resume talks "but not before" the House ratifies the Senate's two-month bill and sends it to President Obama for his signature.
"We've done our work for the American people," said House Speaker John Boehner, who picked eight lawmakers to join the proposed committee. "Now, it's up to the president and Democrats in the Senate to do their job as well."
Indeed, some House Republicans will be sticking around Washington, as necessary, presumably to do their job, as well.

Some Senate Republicans are not interested in the gamesmanship. "I'm not going to argue with the House of Representatives, but do they want taxes to go up on January the 1st, or don't they?" said Senator Charles Grassley (R-Iowa), who voted for the compromise. "If they don't do anything, the chances are taxes would go up."
If an extension fails to pass, a tax cut of up to $40 a week for workers will expire, as well as unemployment benefits for millions of jobless, in addition to an estimated 20% cut in Medicare payments to doctors, which would compromise Medicare recipients' ability to find providers.

Interestingly, Tuesday's set-aside might have been orchestrated in advance. According to the AP, as late as Monday night, several officials said that House Majority leader Eric Cantor outlined a plan for the House to vote down the Senate bill, then vote separately to seek negotiations with the Senate.
"The clock is ticking," Obama said shortly after that House vote came down. "Time is running out."