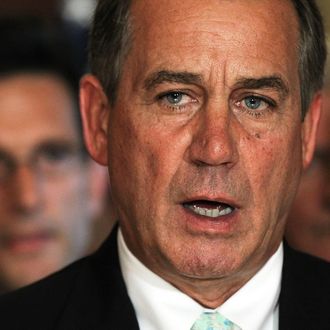 Speaker Boehner. (Win McNamee/Getty Images)
Photo: Alex Wong/2011 Getty Images
Sighs erupted all over Washington when the Senate passed a nearly $1 trillion spending bill that would, for at least two months, extend the payroll tax cut that President Obama has been pushing for. Right away, fingers and toes began crossing, hoping that the House would pass the bill (which also reduces the deficit by about $3 billion) and rush it to Obama's desk — the president had already given his approval for the bill, despite including a measure that would require him to make a decision on the controversial Keystone XL oil pipeline sooner rather than later. But it seems House Speaker John Boehner forgot how unruly his caucus can be.
In a conference call with members yesterday, Boehner tried to persuade House Republicans to vote aye, but was instead met with a wave of criticism regarding the short-term deal, which would allow President Obama to keep skewering Republicans over the still hugely popular payroll tax extensions. Today, on NBC's Meet the Press, Boehner said he was now opposed to the bill. It looks likely that the House will amend the bill or take it to conference, drawing out this impasse to the very last second possible.
Capturing well the sentiment of the call, one source privy to it (but who wished to remain anonymous), told Politico that, "People are pissed at the Senate. Words like 'irresponsible, kicking the can, pile of crap, sucks, McConnell caved, need to fight now.'" Fighting words indeed.