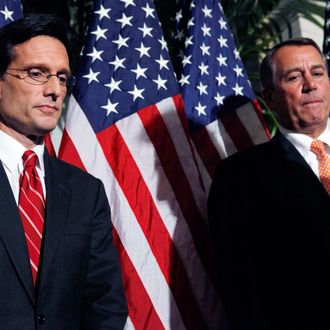 Cantor and Boehner.
Photo: Chip Somodevilla/Getty Images
Republicans in the House of Representatives are prepared to cave in and accept a two-month extension on the payroll tax cut after a days-long standoff rejecting the Senate's version of the bill. The National Journal reports that the House's version will include "a technical correction to the language designed to minimize difficulties businesses might experience implementing the short-term, two-month tax cut extension," but it won't be the one-year alternative that tea party Republicans in the House were pushing for.
Despite the Senate passing the bill 89-11 and then going home, the House adjourned after voting to send the bill to a bicameral committee. "We've done our work for the American people," said House Speaker John Boehner earlier this week. "Now, it's up to the president and Democrats in the Senate to do their job as well." Senate Majority Leader Harry Reid reluctantly agreed to appoint people to the committee, but pressure from the White House and a boatload of bad press seem to have made more negotiations unnecessary for now.
Even fellow Republicans were pushing Boehner to make a move. "I don't think that my constituents should have a tax increase because of Washington's dysfunction," said Representative Sean Duffy. "An 'all or nothing' attitude is not what my constituents need now," concurred Representative Rick Crawford in a letter to Boehner. "We are now in a position … that requires Republicans to not only demand a willingness to compromise, but to offer it as well."
Now, it seems, the holdouts have agreed to retreat. Merry Christmas, President Obama, and to those whose taxes won't be going up for now.