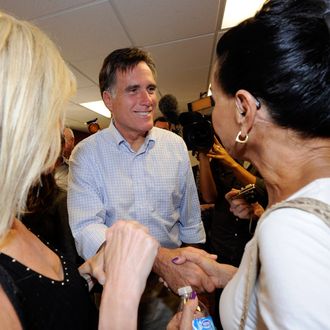 "Hello, human, tell me your age."
Photo: Ethan Miller/Getty Images
While following Mitt Romney on the campaign trail, the Times has noticed some interesting quirks about how the candidate attempts, often unsuccessfully, to interact with voters. The paper of record analyzes these odd habits today in a piece that treats Romney not merely as a generally awkward person, but possibly as an alien or robot struggling to navigate the world of man and all of his complex social norms and expectations. Here are the five moments in the piece where Romney appears most un-human:
>
5. Romney's insufficiently nuanced assumptions about human relationships cause him to cluelessly stumble into uncomfortable situations:
"Daughter?" he asked a woman sitting with a man and two younger girls at the diner in Tilton, N.H., on Friday morning. Her face turned a shade of red. "Wife."

Oh, Mr. Romney said. "It was a compliment, I guess," said the woman, Janelle Batchelder, 31. "At the same time, it was possibly an insult."
4. Romney likes to congratulate people, but "[f]or what, exactly, is not always clear," as if this is just something he has noticed humans saying to one another. 
3.  Romney's forced, robotic laughter is transcribed multiple times as "Ha-ha."
2. When Romney can't compute an acceptable response to a comment directed at him, he will quickly shut down the conversation, like a web browser that crashes when loading a complicated program:
In Bedford, N.H., a woman walked up to him after a speech and declared: "I have a lot [of] friends who say you are the robotic type. And I am like, no, you need to stay that way because you are a leader."

Mr. Romney's mouth arched into a somewhat pained smile as he rushed to conclude the conversation. "Nice to see you guys," he said as he walked away.
1. Romney has trouble with the uniquely human trait known as "humor," sometimes falsely detecting it when it does not exist:
How Mitt Romney Interacts With Humans
Things you buy through our links may earn New York a commission.