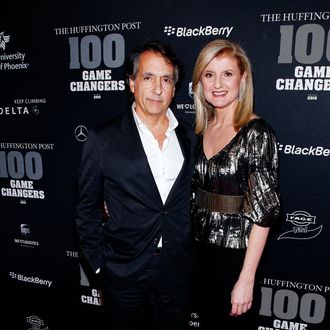 Huffington with HuffPo Chairman Kenneth Lerer.
Photo: Joe Kohen/2010 WireImage
A company that owns a large amount of AOL stock sent a letter to CEO Tim Armstrong last night urging "immediate action" to address what they called the spending of "good money after bad without an acceptable return on the investment." The activist fund Starboard specifically called out the company's push toward online media, like Patch, Advertising.com, and other "money-losing growth initiatives," of which Arianna Huffington was put in charge this year as editorial director, and which the letter said left AOL "deeply undervalued." Despite owning popular websites like The Huffington Post and TechCrunch, Starboard said "investors are ascribing no value to AOL's media assets," claiming they lose more than $500 million a year. AOL's eight directors are all up for reelection to the board in early 2012, and this letter is likely a warning shot to start the scrambling.
Related: Maharishi Arianna [NYM]