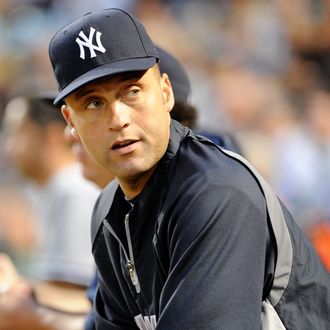 Photo: Greg Fiume/2011 Getty Images
Ever since Derek Jeter broke up with Minka Kelly this summer, he's apparently had a rather active love life. According to "Page Six", he's "bedding a bevy of beauties in his Trump World Tower bachelor pad," whom he sneaks in through the back door. But lest you think Jeter's being ungentlemanly, he gives each of the women with whom he spends a special evening a special gift in the morning. He doesn't, like, personally hand it to them or anything.  
Instead he has a gift basket prepared for the car service he sends them home in. It usually contains autographed Jeter memorabilia, often a baseball — just a little souvenir by which they can remember the Derek Jeter Experience. The Post says they found out about it when Jeter accidentally had a two-night stand, and he sent her home with the same gift twice.  Maybe if she'd gotten something new and fun (collect 'em all, ladies!) she wouldn't have blown up his spot, but he failed to change things up properly. "While the parting gift may seem cold, signed Jeter memorabilia sell like hotcakes on the Internet, with an autographed baseball fetching hundreds and even thousands of dollars," explains the paper. It's a profit opportunity, really. You know, in case you want to feel less like an interchangable hookup and more like a prostitute.