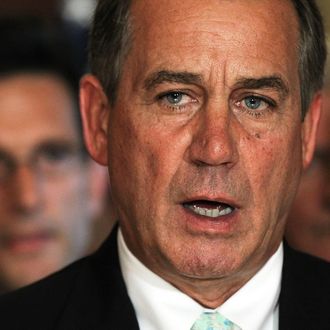 Photo: Alex Wong/2011 Getty Images
The congressional approval rating for December is at 11 percent — an all-time low — and is only poised to get worse if the House of Representatives can't agree on how to extend the payroll tax cut. "So, here we are, just a few days before Christmas and the Republicans are just coming up with another excuse," said Nancy Pelosi late on Monday. "It's just the ridiculous tea party Republicans who are holding up this tax cut for the American people and jeopardizing economic growth." The Senate has already passed a version of the bill by an 89-10 vote, and voted unanimously to recess through most of January. Most people agree, it's John Boehner and friends who are making life difficult.
The deal struck in the Senate would extend the middle-class tax cuts for two months, avoiding a tax hike while lawmakers work to pay for a $200 billion yearlong extension. House Republicans say the temporary extension is unacceptable and would rather ruin the holiday break by taking the bill to a conference committee. (Update: The House referred the bill to a committee with a vote on Tuesday afternoon. See below for details.) With the headline "Has John Boehner lost control?", Politico reports:
It's a high-risk strategy with little reward available: In the worst-case scenario, House Republicans would take sole blame for raising taxes, cutting welfare and unemployment benefits just after Christmas and slashing reimbursement rates for doctors who treat Medicare patients. House Democrats now sense a potential game-changer for their prospects of winning control of the chamber in 2012, which have been dim.

Some Republicans said privately that they weren't certain that the strategy would work.

"We'll find out," said one.
The House has delayed the vote until today. "House Republicans claim to support this middle-class tax cut, but they are really trying to bury it in a committee," said Senator Chuck Schumer. "Speaker Boehner is using one of the oldest tricks in Washington of claiming to support something and then sending it to a legislative graveyard where it never sees the light of day."
But some Republicans fear openly that even if they don't extend the tax cut, Democrats still come out on top. "I think what this is, is a leverage point for the president to say that — cover for his failures, for him to say that the Republicans are going to raise taxes on the, quote, unquote, middle-class. It will enable him to continue on with his very divisive rhetoric about millionaires and billionaires," said House Republican Allen West on Fox News. "I really think in my heart of hearts that the Democrats do want to see this payroll tax expire so that they can use it going into next year as a political talking point in he election cycle." That's on Boehner.
Update: Boehner and co. are following through on their threats Tuesday afternoon, opting not to take the Senate bill to an up-or-down vote and instead referring it to a committee. The National Journal reports:
The House voted 229 to 193 to disagree with the Senate bill, a procedural motion that denied lawmakers an up-or-down vote on the legislation. The motion refers the legislation to a conference committee for negotiation.

There is little indication that Democrats are willing to appoint conferees to participate in the negotiations. Senate Majority Leader Harry Reid, D-Nev., has said he would not bring the Senate back into session, and he has not backed off that position yet.

…

If Democrats refuse to reopen negotiations, Republicans will have to decide between allowing an eventual vote to approve the Senate legislation and allowing benefits to expire at the end of 2011.