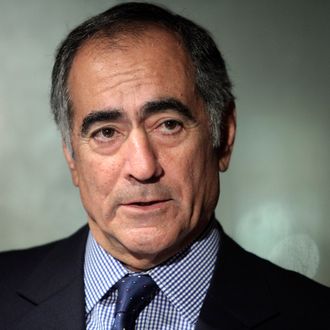 Mr. Fluffy.
Photo: Stephen Yang/Bloomberg via Getty Images
Yesterday, Morgan Stanley threw John Mack a little retirement party. Rather than fill the event with boring praise and highlights from his 40-year career, the organizers turned it into a roast, during which they basically call Mack a sissy in several different ways. We approve, but only because now we know that John Mack is very sensitive about the size of his hands. Morgan Stanley commissioned a nice oil painting of Mack for the sendoff, but he wasn't wild about "how fat" it made his hands look, according to a Fox Business "mole." They're curvy, John. Curvy! Mack didn't actually cry when James Gorman, his replacement as CEO, then bragged about how much skinnier and taller he is than Mack, but apparently, it's not out of the realm of the possible:
In addition to Gorman, Mack was ribbed by his PR woman, Jeanmarie McFadden who revealed that the notoriously quick-tempered Mack "cries a lot … more than (house speaker) John Boehner" and "loves shoes," while Tom Nides, his former chief operating officer (now Deputy Secretary of State for Management and Resources) called Mack a "big marshmallow."
White, puffed-up … isn't that a lot of bank CEOs?