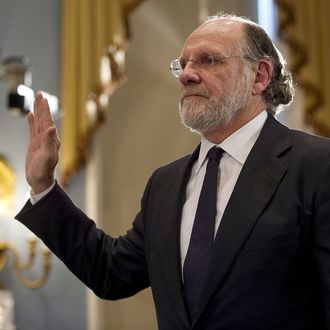 Corzine before Congress.
Photo: Saul Loeb/AFP/Getty Images
A New York Times investigation into the MF Global tenure of former U.S. senator, New Jersey governor, and Goldman man Jon Corzine concludes that the CEO "played a much larger, hands-on role in the firm's high-stakes risk-taking than has previously been known." Upon Corzine's first visit to the company's Chicago offices, he asked a broker excitedly, "How are you making money on side bets? What else are you guys doing to make money here?" Corzine eventually upped the ante at the "miniature Goldman Sachs," and brought the whole thing down: >
He pushed through a $6.3 billion bet on European debt — a wager big enough to wipe out the firm five times over if it went bad — despite concerns from other executives and board members. And it is now clear that he personally lobbied regulators and auditors about the strategy.
His obsession with trading was apparent to MF Global insiders over his 19-month tenure. Mr. Corzine compulsively traded for the firm on his BlackBerry during meetings, sometimes dashing out to check on the markets. And unusually for a chief executive, he became a core member of the group that traded using the firm's money. His profits and losses appeared on a separate line in documents with his initials: JSC.