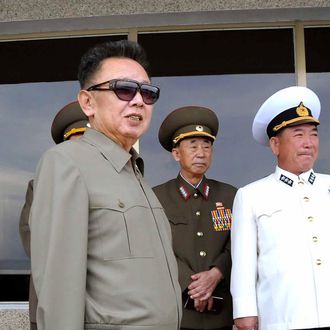 Kim Jong-Il, the incredibly strange North Korean dictator, died on Sunday at the age of 69. The North Korean news agency said the cause of death was "a heart attack brought on by mental and physical fatigue."
Most of the world is probably not too upset at the news, after years of nuclear brinksmanship and horrific famines. A wearer of four-inch lifts in his shoes, he reportedly gathered the shortest people in Pyongyang with the promise of a wonder drug, and then exiled them to uninhabited islands to die. But we'd be lying if we said we didn't love writing about him. Like when he fooled Bill Clinton with an impersonator, or when he toured a soy sauce factory. We were delighted when Kim feigned interest in mundane things. We even recorded a conversation between the North Korean leader and … Michael Jackson.
We'll see if his kids can keep up.