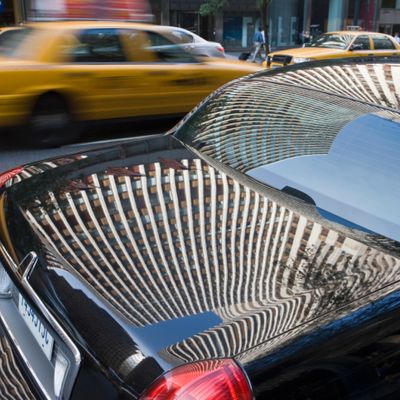 New York's outer-borough taxi-plan looks great on paper: 18,000 newly metered livery cars — 20 percent of which will be wheelchair accessible — will be able to legally pick up street hails above 96th Street on the East side, 110th Street on the West side, and anywhere in Brooklyn, Queens, the Bronx, and Staten Island. But there's one big catch: What to do about the robust network of "gypsy" cabs that illegally accept street hails in these areas?
If the city and the TLC don't protect the new cars' exclusive right to street hails, the value of their medallions might not be worth much more than their weight in tin.
The new plan is the result of a complicated deal brokered by Governor Cuomo and Mayor Bloomberg, which also gives the city the right to sell 2,000 new yellow taxi medallions, raising an expected $1 billion in badly needed revenue. But the big question for the outer-borough plan, which will require livery drivers to buy a $1500 "street hail" medallion and outfit their cars with GPS, a meter, and in some cases retrofit for handicapped access, is: Will it be worth their while?
 Since the outer reaches of New York have long been yellow taxi deserts, unlicensed entrepreneurs have already established a robust network of black market transportation, including livery cabs that take illegal street hails, dollar vans, and privately owned cars that wait for passengers outside of Target, Ikea, or the Utica Avenue subway stop. 
There are more than 150,000 illegal street hails every day, according to the Taxi & Limousine Commission, but the TLC only issued 2,584 infractions for all of last year. There was a more pronounced crackdown in 2011 — along with a city crackdown on cabs that illegally refused to take passengers out of Manhattan — but the TLC is a small regulatory body that lacks the resources to enforce its own regulations or make a meaningful dent in the gypsy taxi business. 
Now the city is trying to make the underground car economy legit, but without budgeting any new funds for enforcement. The recently signed taxi bill will create tens of thousands of new medallions that are backed by toothless regulations that are already largely ignored.
Gypsy cabs will never be eliminated entirely, but a properly funded system of regulation is possible, one that would increase sting operations for illegal street hails and create taxi stands at busy locations, similar to the ones found at airports and the Staten Island Ferry, with curbside agents who usher riders into licensed cabs.