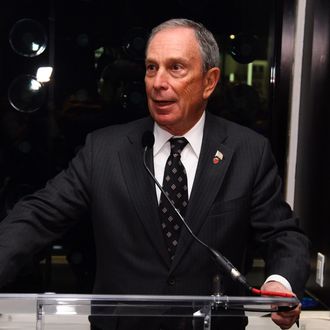 Wedding crasher.
Photo: Neilson Barnard/2011 Getty Images
Craig Johnson and Lucy Foulger, a couple from Britain, decided to get married in New York. Their plan was to have an intimate destination wedding, with close friends and their two children joining them from across the pond. How lovely!
But then Mayor Bloomberg made them an offer they apparently couldn't refuse. He's holding a press conference today to celebrate a milestone: 50 million visitors to the city this year. Since Britain was the number one source of foreign tourists, he wanted a couple of redcoats to parade up there for the cameras, and he picked Johnson and Foulger. He made it worth their while, too.
For agreeing to merge their special day with one of the mayor's, the couple will be rewarded handsomely: They have been offered a bundle of prizes — mostly in the form of gift cards and tickets to shows — with a face value of considerably more than $25,000.

Among the merchants that contributed to the bounty were American Express, Travelocity, Bloomingdale's, F.A.O. Schwarz and the Tribeca Grill restaurant. NYC & Company, which derives its revenue from its corporate members and from allocations of city money, has agreed to pay any taxes the couple incur on the prizes, but is not assuming the costs of their trip or the wedding, a city official said.
Would it have killed him to get a few dinner plates? Maybe a set of brandy glasses? Crashers should always bring a gift off the registry; helps you blend in.
Related: And Another Fifty Million People Just Got Off of the Plane