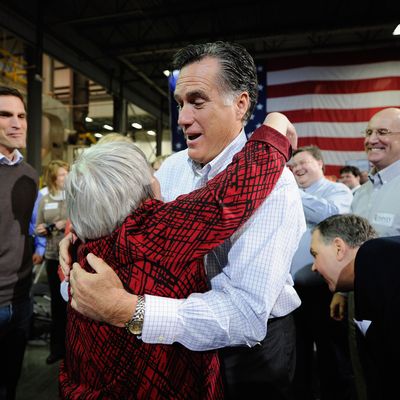 Mitt Romney at the Diamond V South Plant in Cedar Rapids, Iowa yesterday.
Photo: Kevork Djansezian/2011 Getty Images
Greetings from the Renaissance Savery Hotel in downtown Des Moines, where my tenth-floor room offers both a kitchenette, now well stocked with small-batch bourbon and bison-grass vodka, and a lovely view of the gold-domed Iowa State Capitol building. With this post, we at Early & Often — New York's new politics section — inaugurate a new column, which I'll be coughing up daily (or close to daily) when I'm on the campaign trail and which carries a name of no small historical importance (at least to me).
Way back in 1996, in the infant days of the web, I covered that year's presidential race for Wired magazine and its online sister, Hotwired, where we produced the first original campaign reporting and analysis for the Internet. For help in naming my online column, I turned to my pal Stewart Brand, whose cred when it came to nomenclature — having coined the term "personal computer" and created the Whole Earth Catalog — was, shall we say, fairly decent. Stewart's immediate suggestion was that we call the column Impolitic, and we ran with it. Now, fifteen years later, the name is back in action here, which pleases me no end.
I recount this history not merely in the service of self-promotion, but because the echoes of 1996 are ringing loudly in my ears as we head into the home stretch before this year's Iowa caucuses. Back then, the Republicans had spent the better part of a year wrestling with the prospect of nominating an unbeloved, Establishmentarian front-runner who stirred no passion in the party's base — which had been driven bonkers by an incumbent Democratic president and which dearly desired a nominee who could not just defeat him but rip him a new one.
The front-runner in question was, of course, Bob Dole. And it was in Iowa that the party's most fervent conservative activists fastened on to an alternative who struck many non-Republicans (and plenty of Republicans, too) as profoundly implausible: the stolid, Scotch-Irish, hot-eyed, and clench-fisted Patrick Joseph Buchanan.
Dole won the caucuses in 1996 with 26 percent of the vote, but Buchanan finished a surprisingly strong second with 23 percent — and that propelled him full-force into New Hampshire, where he wiped out a twenty-point Dole lead and emerged with a one-point victory that put the fear of God into the Bobster and caused the Republican Establishment to rally around Dole and stave off the Buchanan insurrection.
Fast-forward to today and the parallels are inescapable. For Dole, substitute Mitt Romney; for Buchanan, Newt Gingrich; for Bill Clinton, Barack Obama. (And, if you really wanna get into it, Rick Perry is doing a pretty decent Phil Gramm imitation.)
But there are differences, too. For one thing, Gingrich's position heading into Iowa is much stronger than Buchanan's was: In the last three credible national polls — CNN/Time, CBS News/New York Times, and ABC News/Washington Post — his lead over Romney in the Hawkeye State has been between thirteen and fifteen points. For another, Gingrich is already rising strongly in New Hampshire: After months of Romney being ahead by 20 to 30 points in his adopted home state, the former speaker of the House has cut that lead to single digits (9 points), according to CNN and Time.
This is not necessarily or entirely bad news for Romney. Unlike Buchanan's sudden starburst, Gingrich's surge is coming not in the midst of the voting but with a full month's advance notice, giving Romney and his high command in Boston time to halt Newt's momentum before the Republicans actually get down to nut cutting. And this, of course, is what they and their Establishment allies are now trying furiously to do, having launched a full-bore assault on Gingrich — personal and political, focusing on everything from his multiple marriages and serial adulteries to his apostasies from conservative orthodoxy, his policy flip-flops (or, more accurately, gyrations), and his appallingly hypocritical K Street buckraking — this past week.
What effect that assault will have on Gingrich is anybody's guess, though at the moment it looks more to me like indiscriminate flailing than a rigorous effort that has a chance of knocking him off his horse. But even more significant is the question of whether Romney himself will take up the cudgel and pound Gingrich with it.
Yesterday morning, I drove out to Cedar Rapids for Romney's one public event of the day, a town-hall-style meeting on the Diamond V South Plant factory floor. His performance was decent if unexceptional, a lot like many others of his that I have witnessed in the past year. What was most notable about it, however, was the fact that Romney only mentioned Gingrich once, in the form of a brief and perfunctory contrast of his own position on Paul Ryan's budget (in favor) and that of his rival (Gingrich initially decried it as "right-wing social engineering," though he later changed his tune).
When Romney was asked about Gingrich at a press avail afterwards, he was even weaker, backing away from an attack unleashed on Romney's behalf by former New Hampshire governor John Sununu ("I can't write a script for Governor Sununu"), declining comment on an ad assailing Gingrich by a Romney super PAC, and even praising Gingrich when asked by a reporter about the presidential qualifications of Romney's competitors ("They're all qualified, including Speaker Gingrich").
Maybe this was all just playing possum before tonight's big televised debate at Drake University. But if Romney wants to win this thing, it better have been. One of the striking aspects of the recent polling in the Republican race is how much better Gingrich does than Romney on the question of whether voters see him as a "strong leader." Indeed, in last week's set of swing-state polls from Quinnipiac University, the disparity between the two men on this metric roughly tracked the disparity in their overall support in Florida, Ohio, and Pennsylvania. For Romney to emerge ultimately as the Republican victor, he will need to rectify that situation — for few things matter more to voters, and especially Republican primary and caucus voters, than the perception of strength.
It's worth recalling 1996 again to make the broader point: It wasn't just the Establishment rallying around Dole that slayed the dragon that threatened to trample over him; it was Dole himself suiting up in chainmail and running a sword through Buchanan's heart. If Romney can do the same to Gingrich, he will have earned his party's nomination — and if he can't, he never deserved the fucking thing in the first place.
Related: Circus Iowa: A Playbill for the GOP's Midwestern Gladiatorial Showdown