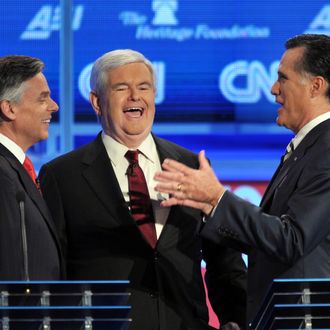 Photo: Mandel Ngan/AFP/Getty Images
After probably too much thought, considering the event is to be moderated by Donald Trump and will air on some network called ION, Mitt Romney has opted to decline the upcoming Newsmax debate planned for late December in Iowa, where Romney now trails Newt Gingrich in the polls. In the "no" column, Romney joins John Huntsman, who said the GOP needs only "serious discussion," and Ron Paul, who quipped that Trump's "wildly inappropriate" selection as host would "contribute to an unwanted circus-like atmosphere." Gingrich, the current pack leader and momentum machine, on the other hand, accepted via Twitter.
Who's clowning whom? 
Ben Smith notes at Politico that when Romney was feeling more untouchable and Rick Perry was having trouble speaking, the Romney campaign was all about debates. "Being Republicans, the natural way you would look at this is let the market decide — and these debates have extremely large audiences," said Romney adviser Stuart Stevens, adding, "I don't see why it's a disservice to just let people talk … "
Perhaps Romney will use distance from Trump, and therefore Gingrich, as a way to project seriousness and electability among the reality-show buffoonery, or maybe, as far as the market goes, Romney hadn't heard of ION either.
Update: Trump has promptly responded, duh, because Trump doesn't want a real political debate, he wants more drama. So maybe everyone wins, except America (and Huntsman):