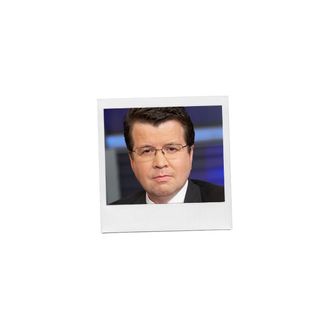 Name: Neil Cavuto
Age: Older than I look, younger than I feel. 53.
Neighborhood: Midtown
Occupation: Anchor of Your World (4 p.m.ET) on FOX News Channel; Senior Vice-President, FOX Business Network; and anchor of Cavuto (6 p.m. ET) on FBN; He'll be helping moderate FOX News's GOP Presidential debate tomorrow, December 15 at 9 p.m. ET.
Who's your favorite New Yorker, living or dead, real or fictional?
Groucho Marx. [He was] to the point. In your face. Made you laugh.
What's the best meal you've eaten in New York?
Anything at Patsy's. They use lots of garlic. I can't understand Italian restaurants even calling themselves Italian restaurants when they don't.
 In one sentence, what do you actually do all day in your job?
I read a lot, then I talk a lot.
 What was your first job in New York?
Wall Street reporter for a now-defunct early-morning business show on ESPN in 1983. It was surreal. But to ESPN's credit, they were the first to see the "gaming" story in covering the markets. Good or bad, precedent-setting.
What's the last thing you saw on Broadway?
The Addams Family (when Nathan Lane was Gomez). I always loved the TV show, and the Gomez character, in particular. Lane gave him something more: depth.
Do you give money to panhandlers?
Depends on the panhandler.
What's your drink?
Anything with gin.
How often do you prepare your own meals?
Rarely. Certainly when in the city, I order out. I skew Italian, but if it's really late, any nationality, as long as they're quick.
What's your favorite medication?
You're asking the wrong guy. What "isn't"?
What's hanging above your sofa?
Depends on the sofa, and the room. My wife's a huge fan of impressionist painters, so the gamut: Monet, Pissarro, Degas, Renoir, Bazille.  Me? Anything velvet … Velvet Elvis. Velvet Last Supper. Velvet Dogs Playing Poker.
How much is too much to spend on a haircut?
I draw the line at John Edwards's $400.
When's bedtime?
11 p.m.
Which do you prefer, the old Times Square or the new Times Square?
New. I don't wax nostalgic for crime.
What do you think of Donald Trump?
I like him. I admire a guy who never forgets a slight. He's built a career on it, and he's laid waste to anyone who dare forget it, or him.
What do you hate most about living in New York?
Pedestrians who just stop in the sidewalk.
Who is your mortal enemy?
Anyone connected to the health-food industry.
When's the last time you drove a car?
Last night. Picking my kids up from basketball practice. It's a chance for us to bond … going through the drive-thru.
How has the Wall Street crash affected you?
My ratings have gone up.
Times, Post, or Daily News?
Easy. Post.
Where do you go to be alone?
Times Square.
What makes someone a New Yorker?
Firmly believing caffeine is a food group.