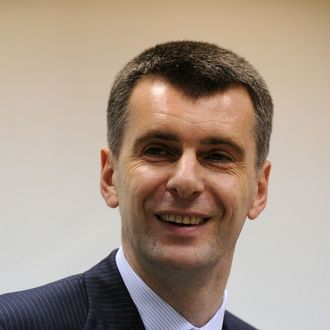 Photo: YURI KADOBNOV/2011 AFP
Nets owner Mikhail Prokhorov announced today that he'll challenge Vladimir Putin in March's Russian presidential election. The Russian billionaire, who was a member of Putin's inner circle until this fall, told reporters, "I made probably the most serious decision in my life." Of course, that statement might make people who put a lot of time and effort into their decision to buy magazines and basketball teams feel a little bit bad. 
He'll go after the Russian middle-class vote, which just so happens to be exactly the demographic that has been most vocal in its criticism of Putin and angry about irregularities in the recent election. Prokhorov will join forces with former finance minister Aleksei Kudrin to push for liberal reforms. "While they are gathering their thoughts, they are losing time, which is very valuable right now," Kudrin told a Russian newspaper. "In parallel, there will arise a new liberal party, which will talk about these problems. This party will include people with experience, people from business. The political picture will begin to gradually change." Will they move the Kremlin to Brooklyn, maybe?