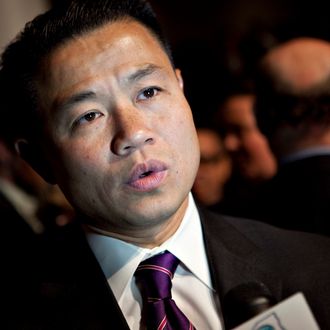 John Liu, New York City comptroller, speaks to a reporter prior to a speech by U.S. President Barack Obama on financial reform at Cooper Union in New York, U.S., on Thursday, April 22, 2010. Obama called on the financial industry to drop its "furious efforts" to fight his regulation plan, saying a failure to impose tougher rules on the market will put the U.S. economic system at risk.
Photo: Daniel Acker/Bloomberg via Getty Images
City Comptroller John Liu looks dramatically less popular in the wake of his campaign finance scandal. Just 25 percent of voters said they thought he'd be a good mayor, and the percentage who disapprove of his job performance jumped from 23 to 35. Since no one really knows what a city comptroller does, that's especially remarkable.