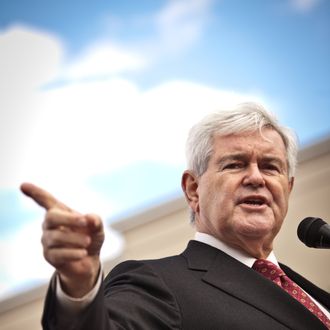 It was a great race, but now it is time to come together behind Newt.
Photo: Richard Ellis/2011 Richard Ellis
A new poll has Newt Gingrich leading nationally with 38 percent of the Republican vote, far ahead of Mitt Romney, who has 17 percent. Now Gingrich, who had been left for dead as recently as a few weeks ago, is already looking past his apparently defeated rivals toward the general election:
TAPPER: "How do you respond to Republicans who say if you don't draw distinctions with Mitt Romney and others who are attacking you, if you don't point out their perceived vulnerabilities, Barack Obama and the Democrats sure aren't going to share that same reluctance and you are doing Obama a favor by staying positive?"

GINGRICH: "They are not going to be the nominee. I don't have to go around and point out the inconsistencies of people who are not going to be the nominee. They are not going to be the nominee."

TAPPER: "You are going to be the nominee?"

GINGRICH: "I'm going to be the nominee. It's very hard not to look at the recent polls and think that the odds are very high I'm going to be the nominee."
Here's what's going to be so entertaining about Gingrich if he manages to pull this off. He has always had a gigantic sense of his own world-historical importance. He managed to maintain it, even as he ran his campaign into the ground and turned himself into a national joke.
Now imagine that he actually comes all the way back and wins the nomination. It will utterly confirm every self-regarding instinct he has – which is to say, every instinct he has. No level of external criticism could be total enough, no debacle complete enough, for Gingrich not to think to himself, "They all mocked me during the primary race but I alone knew I would prevail." He could win the nomination and be trailing by 40 points, or win the presidency and attempt to launch a $100 trillion program to relocate the entire world population to Mars, and at no point would any external criticism make him even slightly inclined to alter his plan.