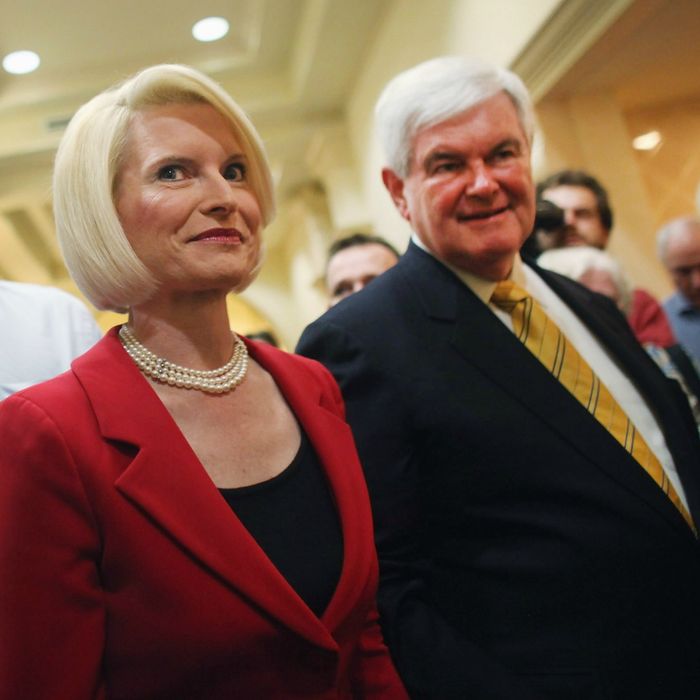 Photo: Spencer Platt/2011 Getty Images
The most crucial detail about Callista Gingrich isn't how old she was when she and Newt began their six-year affair (27), or how old he was when she convinced him to convert to Catholicism (66). It isn't her famous platinum helmet of hair, or that she personally went through every single page of the children's book she published this fall to ensure that the cartoon elephant protagonist had a twinkle drawn into his eye in each picture. Nope, the key to understanding Callista Gingrich is the knowledge that she is a devoted French horn player and a regular participant in the Fairfax City band, whose husband moonily holds her instrument for her backstage.
Even within the band-nerd universe, the French horn stands out as particularly geeky. A French horn enthusiast trumpets (literally, loudly) her disinterest in seeming cool. Callista, who also practiced the piano for five hours a day during her music-major undergraduate years, famously reveals very little to the press, though that may soon change, thanks to her husband's recent surge in the polls. The French horn detail gives a little glimpse behind the Stepford Alien exterior, and hints at what sort of woman might be swept off her feet by Newt Gingrich.  It is also very difficult to reconcile the idea of a community band member with the image of the sort of woman who might break up a politician's marriage, and so perhaps the French horn is also key to understanding why Callista seems poised to escape the Judith Nathan trap of being villainized for the way she and her husband kicked things off. 
Newt is certainly betting on it. There is no hiding the former mistress in the background for him; rather, there is a belief that the clear strength of their rather modern marriage will make up for the weaknesses of his previous ones in voters' eyes – and maybe it will. So much of Gingrich's dirty laundry has been aired already that perhaps the stench is gone. Callista features prominently on the Gingrich campaign website. He brings her up without prompting in interviews, starting answers regularly with "Callista and I think … ." He credits her with keeping his campaign alive. "I don't think I'd be here without her," he said this week, citing the indispensability of Callista's wise counsel this summer after his campaign fell to shambles — some said, at the time, because he'd listened to his wife rather than his advisers, and treated her to a romantic Mediterranean cruise. Those were the old advisers, not the new, more successful team, which is totally onboard with the Gingrich's companionate marriage. "She was the glue that held the campaign together," spokesman R.C. Hammond told Reuters recently. "The first team of consultants would have done a better job if they had had a better understanding of how the Gingrichs make decisions as a couple."
Their joint decision-making in every realm of life — she often sat in on meetings at his consultancy, and he is heavily involved in her film production company — is more than a little reminiscent of Gringrich's old antagonists, Bill and Hillary Clinton. Gingrich's backers even seem worried that people will draw that comparison. "She is much more in the model of a Laura Bush than a Hillary Clinton," David Bossie of Citizens United told Politico last spring. "She just is a strong partner like Laura Bush, was but not out in front like Hillary Clinton was." But while the externalities – the pearls, the stiff smile, the general mien – might be closer to Laura, the internal drive and the love of a driven if charismatically flawed man in service of a larger ambition scan a lot closer to Hillary. But maybe a first spouse in that mold is no longer such a turn-off for the right.
The Type-A, high-achieving Republican woman (who might talk about traditional gender roles, but live her life somewhat differently) is newly popular on the right – as evidenced by the rise of the many "mama grizzly" candidates during the 2010 election – and it seems a model that could be just as well-received for a spouse, if packaged correctly. Of course, the fewer interviews she does, the more the surface speaks for Callista. And it's those outward markers of the good, demure wife, coupled with Gingrich's strong faith, that help make her appealing to the conservative base. So Newt listens to his smart, church-going wife? What's the problem there, exactly? If the Gingriches can frame their marriage in those terms, they'll have gone a long way toward making people forget about their relationship's dicey origins.