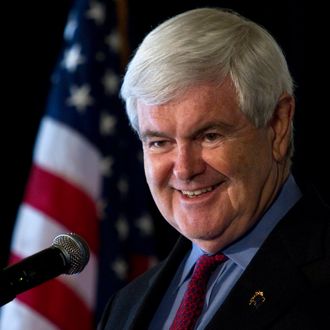 Photo: John W. Adkisson/2011 Getty Images
Newt Gingrich will not be running in the Virginia GOP Primary, as he failed to come up with the 10k signatures required to get a candidate's name on the ballot. (Rick Perry also did not qualify, but no one seems to care as much.) Relevant factoid: The Gingriches have lived in McLean, Virginia for several years.
Ron Paul and Mitt Romney met the required amount of signatures, and will be on the ballot.
Update: The Newt isn't taking this sitting down. The Gingrich campaign says Virginia has a "failed system," and that Newt will launch an aggressive write-in campaign.
Update #2: Sorry, Newt — apparently, writing in a candidate in a primary election is prohibited in Virginia.