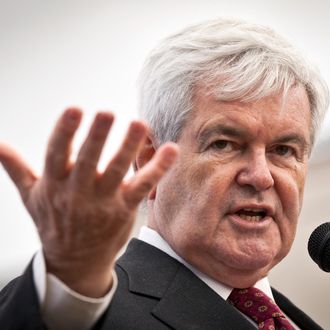 Newt.
Photo: Richard Ellis/Getty Images
Midway down a CNN story about documents that contradict Gingrich's position that it was not he but his first ex-wife, Jackie Gingrich, who sought a divorce in 1980, a former close friend of the GOP presidential candidate, Leonhard H. "Kip" Carter, shared a part of Newt's view of the presidency and his ex-wife's appearance:
"He (Gingrich) said, 'You know and I know that she's not young enough or pretty enough to be the wife of a president,' " Carter, who now lives in South Carolina, told CNN recently, relating the conversation he had with Gingrich the day Gingrich revealed he was filing for divorce.
"Not hot enough," "irretrievably broken," what's the difference? A Gingrich spokesman did not respond to a CNN e-mail inquiring about the conversation between Newt and Carter.