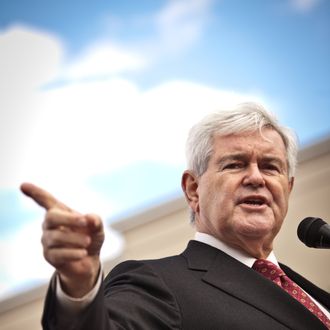 Photo: Richard Ellis/2011 Richard Ellis
Newt Gingrich is in New York City today, and it's not just to hang out with golf-club buddy Donald Trump at Trump Towers. He's here because "New York is in play" for 2012 — or, at least, he's willing to say so for the sake of discussion and buzz-building. According to a memo obtained by Politico, Gingrich will announce a "50-state strategy" here in the city today, a location that's either meant to bring to mind Ronald Reagan's 1979 campaign announcement at the Hilton NYC, or that just happens to be where Gingrich was campaigning when the idea occurred to him. 
"Our exhausted entitlement and welfare model is a dead end for low-income Americans everywhere, from the rural South to right here in New York City," says the memo. "And now is the time to make the case in every single neighborhood in this country that conservative solutions can lead the way to create prosperity for all Americans." The last time New York voted for a Republican presidential candidate was Reagan in 1984. A 50-state strategy is, well, ambitious for a guy who as of last week had just 24 staffers in the first three primary states. Though, at that rate, Gingrich would only need 400 staffers for all fifty states, so why the hell not send a couple interns to a Boston Starbucks and call it Massachusetts state HQ?