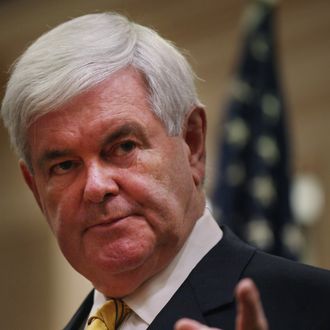 Photo: Spencer Platt/2011 Getty Images
When Newt Gingrich told a group of Harvard students last month that schools in the poorest neighborhoods "ought to get rid of the unionized janitors, have one master janitor and pay local students to take care of the school," it was easy to mock him as a child-labor-law-hating Scrooge. But it turns out that Newt's latest, greatest idea didn't come from the recesses of his historically significant brain. No, he stole it from New York. Or rather, Newt stole it from Joe Klein when Klein was one of us.
Klein explains:
This issue is very personal to me – as Gingrich pointed out when we chatted afterward – because I gave him the idea in the first place, twenty years ago. He read a column I wrote about New York City's fiscal cataclysm, in which I mentioned that the school janitors had a contract that paid them more than teachers received (nearly $60,000 – and now nearly double that) but, according to said contract, they only were required to mop the cafeteria floor once a week. I suggested at the time that maybe the city could save some money by contracting out the heavy-duty janitorial work, but also build some character and community spirit by having the kids and their parents help keep the schools clean.
A quick search through the archives revealed the article in question, the May 27, 1991 installment of the magazine's "City Politic" column. In it, Klein berates Mayor David Dinkins for his handling of the city's budget crisis and his decision to choose "chaos and the unions" over "creative ways to provide for the city's needs." Irate at Dinkins's "paralysis and denial," Klein suggests a few services that the mayor might want to consider cutting:
The city spends $231 million per year to overpay school custodians (they make $57,000 on average as opposed to $36,000 elsewhere), who have a union contract that says, among other things, that they have to mop the cafeteria floor only once a week…[The union] should go or be drastically cut back: Parents, students, and tenants can — and probably should — do basic cleanup work. More complex services, like boiler maintenance, can be contracted out. The savings could be immense."

New York and Newt Gingrich: Not necessarily consenting ideological bedfellows since 1991.