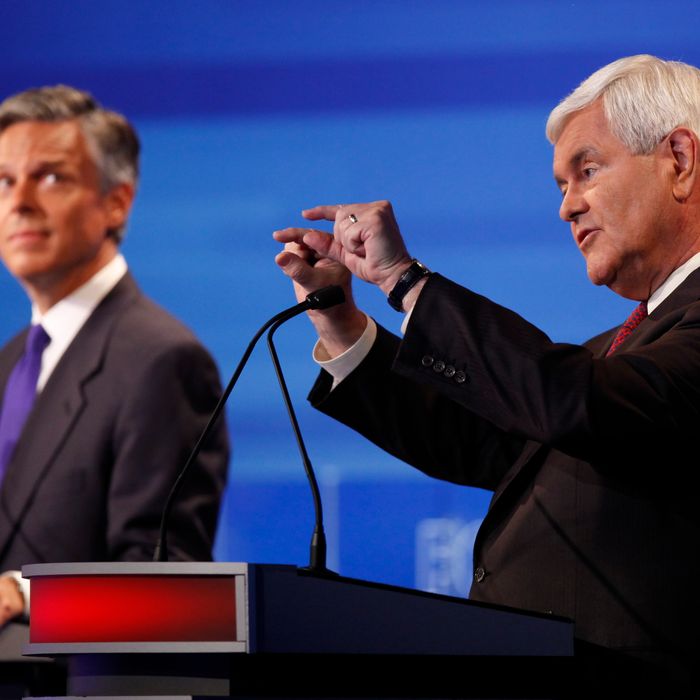 Photo: Pool/2011 Getty Images
The Republican nomination may well hinge upon the New Hampshire primary. Gingrich has opened large leads in three of the first four states, and now trails Romney by just nine points in New Hampshire. If Gingrich can win there, he will probably sweep to victory in South Carolina and Florida, opening the contests with four straight wins and building a perception of inevitability that Romney can't overcome. And there's one hidden factor that just might help Gingrich win New Hampshire: Jon Huntsman.
Huntsman is putting all his chips in New Hampshire. His PAC, funded by his wealthy father, is pouring money into ads in the state, lifting him up into double digits. He's also put together the campaign's most brutal assaults on Romney. Check out this takedown.
Can Huntsman win the state? I highly doubt it. He can hurt Romney, though. As a moderate (and a Mormon) he outflanks Romney on the left, competing for votes among the party's shrunken centrist wing, and preventing Romney from moving further right to fend off Gingrich. It wouldn't take much for Huntsman to deliver a death blow to Romney's campaign in the Granite State.