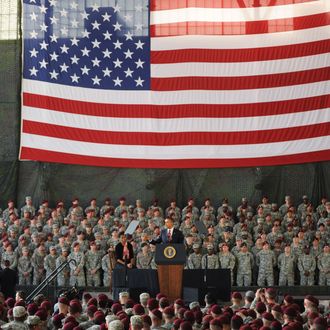 Photo: Davis Turner/2011 Getty Images
"We are ending a war not with a final battle, but with a final march toward home," President Obama told soldiers today at Fort Bragg in North Carolina. "Those last American troops will move south on desert sands, and then they will cross the border out of Iraq with their heads held high," he said in a speech to those gathered, including the Army Special Operations and the 82nd Airborne Division. "One of the most extraordinary chapters in the history of the American military will come to an end. Iraq's future will be in the hands of its people. America's war in Iraq will be over." The audience responded with a spirited, "Hooah!" And while the event to honor those who have served is one of many the president has been hosting to mark the end of the war, Fort Bragg's North Carolina locale made it something of a campaign stop, too.
The New York Times reports that the trip was Obama's first to the army base, and an especially meaningful one because of the president's potential path to reelection in 2012, which could include winning Virginia and North Carolina, a typically red state that Obama turned in 2008. "But Fort Bragg and neighboring Fayetteville, with its large African-American population full of veterans of both Iraq and Afghanistan, will need to join urban areas like Charlotte, Greensboro and Raleigh-Durham in turning out for Mr. Obama if the president is to have a chance of repeating that unlikely win next year," says the Times. Mitt Romney has also acknowledged the significance early on, and is already running anti-Obama ads locally.
The Obama campaign, meanwhile, is aiming to position the end of the war as a campaign promise fulfilled, but it's one that, while heartening, could be easily overshadowed by that pesky economy.