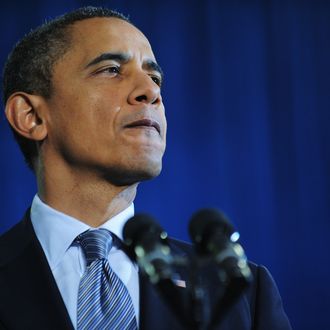 Photo: Mandel Ngan/AFP/Getty Images/2011 AFP
With the constant rumbling over who is leading the GOP primary, somebody finally asked the president who'd he rather go up against.
And it seems Obama couldn't care less. Part one of the president's 60 Minutes interview aired Sunday night, and in it Obama told Steve Kroft that there isn't really any difference in who he faces in the upcoming election.
"The core philosophy that they're expressing is the same," Obama said. "And the contrast in visions between where I want to take the country and … where they say they want to take the country is going to be stark." According to Obama, the central question of the election is, "Do [voters] see a more compelling vision coming out from the other side?"
So Obama's not worrying about his opponent just yet. "I think that they will be going at it for a while," the president said. "When the Republican Party has decided who its nominee is going to be, then we'll have plenty of time to worry about it."