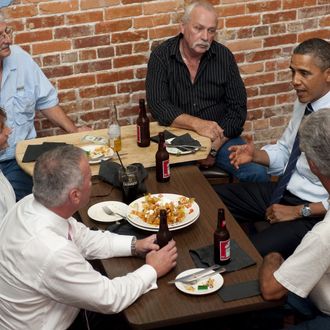 Obama would rather hang out with complete strangers off the street than the people who control his agenda
Photo: Saul Loeb/AFP/Getty Images/2011 AFP
There has always been a distinct chilliness between President Obama and official Washington. Even ideologically sympathetic Democrats in Congress tend to quietly, and sometimes not so quietly, complain that he is ignoring them. Helen Cooper reports today in the New York Times that there's a reason members of Congress feel that Obama ignores them — he hates them:
More noteworthy than Mr. Obama's spending the short flight calling his longtime aide is what he did not do: schmooze with Washington politicians. No one from the New Hampshire Congressional delegation traveled with Mr. Obama on the plane, a perk that presidents often offer to lawmakers to foster good will.

Mr. Obama, in general, does not go out of his way to play the glad-handing, ego-stroking presidential role. While he does sometimes offer a ride on Air Force One to a senator or member of Congress, more often than not, he keeps Congress and official Washington at arm's length, spending his down time with a small — and shrinking — inner circle of aides and old friends.
Look, I sympathize. Schmoozing up members of Congress would be one of the more painful parts of the job of being president. But it is part of the job. Politics isn't only about appealing to voters, it's also about getting insiders to pull together.