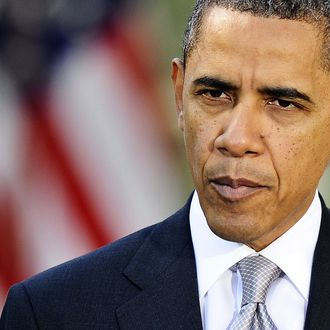 Eight out of ten Jews preferred Obama in 2008.
Photo: JEWEL SAMAD/2011 AFP
"No ally is more important than the state of Israel," Obama said at a stop in the Upper East Side during his fund-raising tour-de-Manhattan on Monday night. The president made the remark at the home of Jack Rosen, chairman of the American Jewish Congress, who expressed the Jewish community's concern about the United States' willingness to support Israel.
Obama reaffirmed his administration's commitment to its Middle Eastern ally and humble-bragged about their efforts, too. "I try not to pat myself too much on the back, but this administration has done more for the security of the state of Israel than any previous administration," he said. "We don't compromise when it comes to Israel's security … and that will continue."
Rosen agreed with the President, saying that since Obama took office, "America's never been as supportive to the state of Israel." Still, Jewish voters have not forgotten Obama's position on border negotiations on a possible Palestinian state, when he urged that borders be drawn based on lines that existed prior to to Israel's capture of the West Bank and Gaza Strip in 1967.
Obama will need to secure the Jewish voting bloc to capture swing states like Florida and Pennsylvania in 2012 as he did in 2008, when he won eight out of ten Jewish voters.