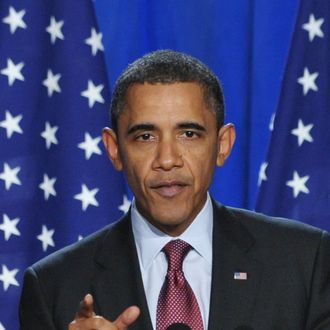 Obama last evening.
Photo: MANDEL NGAN/2011 AFP
Occupy Wall Street might be done camping out overnight in Zuccotti Park, but that doesn't mean the movement is finished with physical protests. Last evening, a group of several hundred demonstrators marched to midtown, where President Barack Obama had arrived for a fund-raiser at the Sheridan Hotel, along with money-raising stops at Gotham Bar and Grill and a private home on the Upper East Side for an Israel-focused fund-raiser. The marchers got close to the midtown site, but were kept firmly behind barricades, tamped down by the large security presence in place for the presidential visit.
The role donations play in politics is, of course, one of the main beefs of OWS, and, as John Heilemann wrote in this week's New York cover story, the lefty movement has also become a repository for airing liberal grievances against the president. New Hampshire Occupiers targeted the president last week. And — no favorite-playing! — Mitt Romney got the Occupy treatment in Tampa. Signs last night read "Obama is a corporate puppet," and included graphics that linked Obama to President Bush, perhaps the ultimate cruel cut from the disappointed left.
Of course, the price of admittance to the fund-raiser, which began at $1,000 and moved sharply up from there, all but guaranteed only the 1 percent would be in attendance. "You know, in this city that if you're having a $35,000 a plate dinner, that a lot of those people are going to be the Wall Street executives that we've been opposing for months now," demonstrator Ben Campbell told WNYC. Inside the hotel, meanwhile, Obama told his big-ticket donors that change had to be gradual. "It's going to take more than a few years to meet the challenges that have been decades in the making."
Related: 2012=1968?