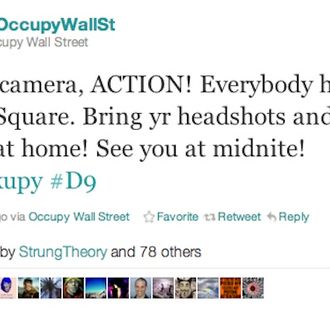 Oh, it's meta. Updates from the New York Daily News and @Newyorkist of NYC the Blog have tracked Occupy Wall Street's after-hours meta-occupation of Law & Order: Special Victims Unit's replica Occupy set. At about 11:30 p.m., OWS's Twitter feed advised protesters to head to Foley Square to join the goof occupation dubbed "Mockupy."
People listened. Shortly after midnight, the Daily News reported that about 30 protesters crossed barricades onto a Zuccotti-themed set (a really accurate one, based on one account) as about 15 police officers watched nearby. (See an image here.) A few minutes after that, the show's permit was reportedly pulled by the NYPD. And at 12:41 a.m., occupiers began getting evicted from the fake set to allow the crew to break it down. What an appropriate ending.
Update: As of 1:05 a.m., there were reportedly no arrests.