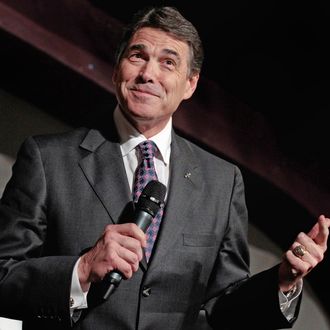 Rick Perry: completely against abortion since one week prior to the Iowa caucus
Photo: Chip Somodevilla/2011 Getty Images
Previously, Rick Perry thought that abortion was acceptable in cases of rape, incest, or where a mother's life is at risk. But after undergoing what he termed a "transformation," Perry now believes that abortion should not be permitted under any circumstances.

The Texas governor has a strong pro-life record, but up until roughly a week ago he did support or at least tolerate abortion in those limited cases. So what's changed?


According to Perry campaign officials, the candidate watched a DVD on the campaign bus last week, a documentary titled The Gift of Life that contained a powerful anti-abortion message that moved him to announce his changed position. Perry told a crowd at a town-hall meeting in Osceola, Iowa: "The lady in the DVD was looking me in the eye and said, 'You really have to think this through.' She said to me, 'I am the product of rape' and she said 'my life is worthy.' It was a powerful moment."
Fair enough, and good enough for the Iowa pastor who posed the question to Perry, but the timing is too perfect to consider Perry's change of heart as anything more than a convenient move further right to try to capture more of Iowa's evangelical vote.
We figured the Perry-led bus as more of a Cowboys & Aliens crowd.