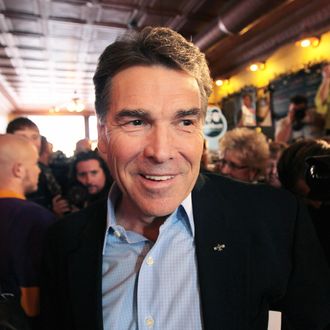 Rick Perry in Iowa earlier this month.
Photo: Scott Olson/2011 Getty Images
On the final day of the eleventh year of the second millennium, Impolitic awoke in a quandary about which of the Republican candidates to chase down before settling in at the legendary 801 Chophouse in downtown Des Moines for the requisite evening revelry — until he ran into a fellow scribe who announced his intention to check in with "Governor Belt Buckle" at an event 45 minutes north in Boone. A good idea on its face, I thought, then checked the schedule of, yes, Rick Perry, and found that the event in question was being held at a sports bar called the Gigglin' Goat. Let's roll!
Perry and his wife, Anita, arrived on time and found maybe 200 voters arrayed around a podium in front of a ginormous American flag. After Anita gave a warm but curious testimony to her husband — observing that she had been married to him for 29 years, then adding, "If there is a secret there, I don't want to know it" — the Texas governor offered his closing argument and took some questions from the crowd. Along the way, he went out of his way to single out Rick Santorum for some shots, and no wonder: In the race for third place (or maybe even better) and especially for the hearts and minds of Evangelical voters, the contest in Iowa increasingly looks like a Santorum-Perry showdown.
Perry has been going after the other Rick at every one of his events for three straight days, ever since public polling revealed the existence of a Santorum surge. As the target for his attacks, Perry has chosen the former Pennsylvania senator's record on pork-barrel spending and especially on earmarks — which Perry believes highlights the difference between himself (the "anti-Establishment candidate") and Santorum (just another "Republican insider"). "What was so important that Senator Santorum felt compelled to add even greater debt to our children's credit card?" Perry asked at the Gigglin' Goat. "Was it the Bridge to Nowhere? Was it the Montana Sheep Institute? Was it the Iowa indoor rainforest?" Perry noted that Santorum has been defending himself on this front by citing federalism. Hogwash, Perry said: "It's not about federalism — it's about fleecing the American taxpayer."
As it happens, I drove out to Marshalltown last night to catch Santorum's act and can report that Santorum does indeed defend earmarks — though not on the basis of federalism but as a means of curtailing the spending power of the executive branch. What was most notable about Santorum's argument wasn't its substance, however. It was its duration and dourness. Even at a moment when the candidate is experiencing his moment in the media sun, Santorum is a notably mirthless and windy political performer. In front of a hundred voters and fully eleven TV cameras (including one deployed by CSPAN) at the Legends American Grill, Santorum, wearing one of what are fast becoming his trademark sweater vests, gave a twenty-minute speech and took questions for more than an hour, and every answer was senatorial in all respects: dull, technical, endless, and replete with reminiscence. Sadly, the one thing that would have enlivened the proceedings he avoided altogether: Not a word was spoken about the infamous Santorum bugbears of bigamy, polygamy, or man-on-dog intercourse.
In terms of style, the contrast between Santorum and Perry couldn't possibly be more glaring. In these final days before the caucuses, Perry is showing off some of the vaunted retail skills that many reporters (including this one) played up as being among his prime assets when he entered the race in August. His answers to questions are concise, well-polished, and apparently sincere — without any of the painful earnestness of Santorum's. When he was asked today in Boone about immigration, the issue that caused him so much trouble a few months ago when he defended his state's policy of granting in-state tuition benefits to the children of undocumented immigrants, he answered confidently, without a trace of defensiveness, and even with some humor. Noting that earlier in the year, President Obama had visited El Paso and declared the border safer than it has been in years, Perry cracked, "I thought he was talking about the Canadian border."
Perry's stump skills are not his only advantage over Santorum, nor his most important: Money is. Indeed, no campaign has spent more on TV advertising in Iowa than Perry's (more than $4 million), and if you add the amount poured in by the pro-Perry super-PAC Make Us Great Again (nearly $2 million), the gulf between The Belt Buckle and The Sweater Vest (maybe half a million) is Grand Canyon–esque.
And yet it's Santorum and not Perry who seems to have the wind at his back with the caucuses three days out. (I say "seems" because, at Santorum's events today, there have apparently been more members of the media present than actual voters.) We will have a better picture of the situation shortly, when the Des Moines Register releases its final pre-caucus poll — the gold standard when it comes to measuring Iowan public opinion. If Santorum is shown to be gaining more ground, it could be a crucial moment, not only signaling that the Evangelical vote is trending his way but further hastening that trend by spurring Christian right voters to switch to Santorum. But if the Santorum surge proves to be a chimera, Perry still may be in the hunt for a third-place finish, an outcome that would surely have him and his advisers crowning him the Comeback Kid.
Perhaps Santorum will prove once again that momentum beats money in Iowa. Or maybe Perry will demonstrate that the only rule in Iowa is that unpredictability trumps all. What does my gut say? It says, "I'm hungry — get a goddam rib eye in here." More tomorrow once we know what the Register's wizards have divined. Happy New Year!