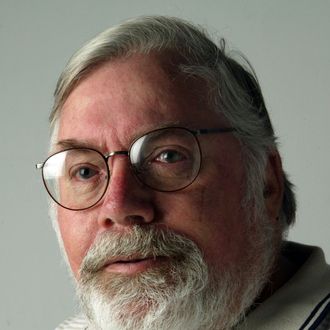 Conlin.
Photo: Philadelphia Daily News/MCT via Newscom
Hall of Fame sportswriter Bill Conlin, an employee of the Philadelphia Daily News for more than 40 years, retired from the paper yesterday after four people said Conlin molested them when they were children. According to an article in the Philadelphia Inquirier, three men and a woman have come forward to claim Conlin touched them inappropriately in the seventies and that, while the statute of limitations prevents police from prosecuting, recent reports of sexual abuse at Penn State "brought back painful memories and reminded them of the secrecy that shrouded their own assaults." At Penn State, former assistant coach Jerry Sandusky faces more than 40 counts of molesting young boys, while at Syracuse University, ex-coach Bernie Fine faces sexual abuse allegations that are also beyond the statute of limitations.
That's one reason Conlin's accusers say they are speaking up now:
They also said they wanted to bring attention to the shortcomings of the statute of limitations on sex crimes, which bars prosecution in their cases because their parents did not call police when the abuse occurred years ago. In several cases, the parents corroborated the accounts, and one — Conlin's brother-in-law — said the writer broke down in tears and insisted he had only touched the girl's leg.
"Mr. Conlin is obviously floored by these accusations, which supposedly happened 40 years ago," said Conlin's lawyer. "He has engaged me to do everything possible to bring the facts forward to vindicate his name."
Daily News editor Larry Platt said, "I can't even begin to express the shock, sadness, and outrage I feel by what Bill Conlin is alleged to have done." He accepted Conlin's resignation and published a column explaining his reaction: "This is what we do," Platt wrote. "We hold people accountable, and we've done that with everyone from mayors to Jerry Sandusky. Now we just may have to do it with one of our own."
Recently, Conlin chimed in on the Sandusky scandal in a column entitled, "Tough Guys Are Talking About Sandusky." Conlin wrote: "Everybody says he will do the right thing, get involved, put his own ass on the line before or after the fact. But the moment itself has a cruel way of suspending our fearless intentions."
Additional victims who grew up around Conlin have claimed that he molested them as well, and a handful told their parents at the time. "Nobody called the cops," said one victim. "Everyone went back to living their lives." New Jersey, where the crimes allegedly occurred, currently has no statute of limitations on sex crimes, but that law was enacted in 1996, and is not retroactive.
The current issue of ESPN the Magazine features the headline "Hands Off" on the cover, and includes a story about sexual abuse in the sports world, especially at the hands of coaches. "The more distant an uncomfortable situation becomes, the less we want to talk about it," writes Wayne Drehs. "So parents, coaches and administrators will do what comes naturally — exercise denial. Not my coach. Not my kid. Not my town. Yet one can't help wondering: What if they're wrong?"