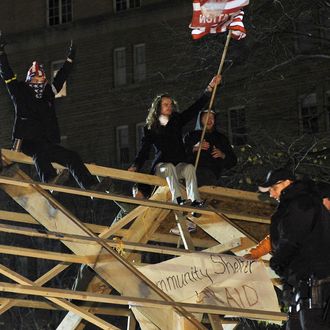 Photo: NICHOLAS KAMM/2011 AFP
Early Sunday, Occupy D.C. protesters began to build a wooden houselike structure — their Twitter stream refers to it as the barn — two blocks from the White House. The police had announced well in advance that anyone inside and around the barn would be arrested, and that the barn itself would be dismantled. Though the standoff lasted well into the evening, there were no major incidents. According to early reports, 31 people were arrested.

Throughout, the protesters chanted the amazingly uncatchy phrase, "We are stronger than your trucks and your horses and your riot gear and your orders."
Police used a cherry-picker to reach the protesters who wouldn't get off the roof. An oversize air mattress was on hand so nobody got hurt. One showman took advantage. According to the Times:
One of the protesters is said to have landed with a flamboyant somersault on the inflated mattress. He was arrested as onlookers cheered as if he were a gymnast who had just stuck a landing.
Eventually, the police, armed with power tools, fully dismantled the barn and loaded the pieces onto a truck.