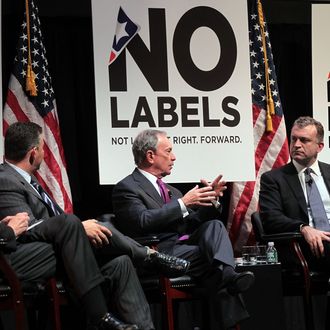 Perhaps a bipartisan panel is in order.
Photo: Spencer Platt/2010 Getty Images
My story on liberal disappointment with Democratic presidents from a few weeks ago touched briefly on the recurrent appearance of third-party fantasies, which I see as an expression of angst by the moderate wing of the Democratic coalition. Mark Schmitt, writing for Democracy, provides a much longer and sharper treatment of the phenomenon. The most curious aspect of it, he writes, is that the third-party movement rests upon claims of disempowerment by the most powerful people within the political system:
The list of co-founders of No Labels begins with Bill Andresen, a former chief of staff to Senator Joe Lieberman, now a lobbyist, and ends with Al Wynn, a former member of Congress, now … a lobbyist.

Most of the co-founders, like many of the other third-party fantasists, come from the conservative wing of the Democratic Party. They often claim, as Lieberman does, that they have been frozen out of politics as their party moved to the left and the Republicans moved to the right. But in fact conservative Democrats have held the balance of power for two decades. They have limited what Presidents Clinton and Obama could accomplish, and they enabled many of George W. Bush's accomplishments. Take this example of their power: When a promising alternative approach to health reform—allowing 55-to-65 year olds to buy into Medicare—emerged in early 2010, all it took was a single negative gesture from Lieberman, and the idea was buried in less than a day.

Few senators in history have held the veto power that Lieberman, Mary Landrieu of Louisiana, Ben Nelson of Nebraska, and a few others hold in the current political structure. The closest parallel would be the Southern Caucus of the 1940s through the 1960s, by which the (even more) conservative Democrats of that era used the seniority system and committee chairmanships to block civil rights legislation and many other progressive priorities. Lieberman, Landrieu, and Nelson, however, exert their power without leadership positions or control of key committees. No Labels, Third Way, and Americans Elect seem designed to strengthen this already-overempowered bloc.
The strongest example of this has to be the third-party movement's obsession with the end of reducing the long-term deficit by the means of bipartisanship. I would argue that the economic crisis and climate change pose more dire emergencies than the long-term deficit, and that while deficit reduction is a worthy goal, bipartisan agreement is a doomed mechanism to achieve it. But elite centrists nonetheless managed to foist both their desired end and their desired means onto the top of the political agenda for about a year. We tried absolutely everything – official  bipartisan commissions within Congress, official bipartisan commissions outside Congress, unofficial bipartisan commissions within Congress, informal bipartisan working groups within Congress, a blizzard of panels, doomsday triggers. Nothing worked.
As Schmitt points out, there is a principal known as Duverger's Law that holds that political systems using winner-take-all methods invariably lead to two-party duopolies. It would be great to reform the voting system to open up the possibility of multiple parties. But the disappointed centrist elite remains wedded to impossible solutions, unaware of the actual constraints and unwilling to acknowledge the power it wields.