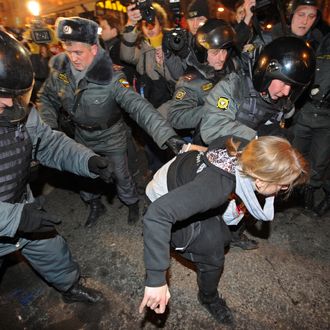 A recent Russian protest.
Photo: Kirill Kudryavtsev/AFP/Getty Images/2011 AFP
Losses for Prime Minister (and presidential candidate — again) Vladimir Putin's United Russia party in Sunday's parliamentary election were bad, but would've been worse if they hadn't cheated, according to critics of the governing party. Along with the stuffing of ballot boxes, one European observational group has issued a report more generally calling out "the interference of the state in all levels of political life, the lack of necessary conditions for a fair competition and no independence of the media." Protests in response to the election hijinks have continued to pop up around the country all week, but to hear Putin tell it, it's all our fault — especially Hillary Clinton's. "I looked at the first reaction of our U.S. partners," he said. "The first thing that the secretary of state did was say that they were not honest and not fair, but she had not even yet received the material from the observers."
"She set the tone for some actors in our country and gave them a signal," Putin said today. "They heard the signal and with the support of the U.S. State Department began active work." Clinton has since responded by saying that the concerns she voiced about the election were "well-founded."
The New York Times reports that Putin and his allies have been running some interference of their own:
Mr. Putin's assertions of foreign meddling and his vow to protect Russian "sovereignty" came after three days in which the Russian authorities have moved forcefully to tamp down on efforts to protest the elections, arresting hundreds of demonstrators and deploying legions of pro-Kremlin young people in Moscow to occupy public squares and to chant, beat drums and drown out the opposition.
One Kremlin expert said Putin's finger-pointing is meant to occupy protesters with other worries: "The authorities will attempt to conduct themselves with society as a parent would a child who is crying and demanding some kind of toy," he explained. "In this case, it is not correct to go out and buy the child a toy, but rather distract him with something else." The U.S. government, then, works as a big boogeyman to scare everyone straight, while Putin can position himself conveniently as a protector.