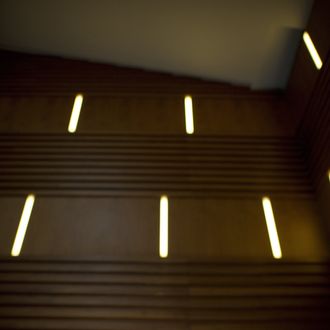 Oy.
Photo: ODD ANDERSEN/2011 AFP
Yoshiyahu Yosef Pinto is an all-star rabbi with connections to politicians, jewelers, and even LeBron James, but he seems to be missing millions of dollars in donations. The money problems have been the source of much speculation about financial impropriety, and now Rabbi Pinto's associates are blaming two men: Ofer Biton, a former aide to Pinto who dealt with donations, and Ronn Torossian, the hot-headed PR stud behind 5W Public Relations (and clients like Sean Combs). Neither of the men have been charged with a crime, but the F.B.I. is looking into what Pinto's people allege isn't just theft, but blackmail and Wikipedia tampering.
When Pinto became suspicious of missing funds and donations that were unaccounted for, he cut off Biton and Torossian only to be threatened by them, according to one of Pinto's lawyers:
One night, Mr. Biton and Mr. Torossian confronted the rabbi over the decision, according to Ms. Cohen, who said she was there at the time.

Ms. Cohen said she heard Mr. Torossian demand $500,000 from the rabbi, as well as five months' rent for the Essex House apartment. Mr. Torossian threatened the rabbi with a spate of negative publicity if he did not agree, she said.

"It was a very bad situation," she said.

The rabbi's followers contributed at least $380,000 to meet the demand, Ms. Cohen, Mr. Azour and other followers said.
But beyond money, Biton and Torossian have been determind to ruin Pinto's reputation, according to his people. It started early on, when Biton still worked for Pinto and he would allegedly leak bad press about the rabbi so Pinto would keep Torossian on retainer for public relations. Now that the supposedly scheming pair have been pushed to the outside, they've taken a different tack:
Over the last year, administrators and editors at Wikipedia have repeatedly blocked hostile posts about the rabbi. One commenter, who referred to himself as "Babasalichai," wrote that the rabbi was perceived by some as a "somewhat shady businessman."

The Wikipedia administrators investigated "Babasalichai" and other similarly negative commenters by examining their Internet addresses and other evidence. They reached a conclusion about the sources of the hostile posts: "Even if they're not all the same person," a Wikipedia editor known as Dweller wrote on April 5, 2011, "they are all employees of Torossian."
Biton, meanwhile, owns a porn shop. Not that there's anything wrong with that! It just adds another wacky detail to a story full of them.