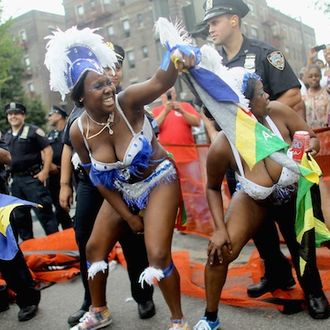 The West Indian Day Parade.
NYPD Commissioner Ray Kelly issued a statement on Wednesday afternoon in response to a Monday night report about the "No More West Indian Day Detail" Facebook group, in which users who appeared to be city officers called parade-goers "savages" and "animals." (Update: See below for Kelly's quotes.) Kelly's spokesperson Paul Browne deflected questions about the incident on Tuesday by saying only, "The Internal Affairs Bureau has undertaken an investigation of the matter." Local politicians have more definitive things to say.
Add it to the pile of bad moments this year for the NYPD, say critics, including the ticket-fixing scandal, rape charges, gun smuggling, and drug-planting. "There's a problem that needs to be fixed," said Jumaane Williams, a city councilman who was detained after the parade, an episode he says can be owed in part to his race. "We can't address the problem if no one wants to admit that the problem's there." Other notable city figures are echoing the admission of a problem, the Times reports:
"Disgusting," the city public advocate, Bill de Blasio, said.

"Reprehensible," said the Manhattan borough president, Scott M. Stringer.

"Racist," said the Brooklyn borough president, Marty Markowitz.

William C. Thompson, a candidate for mayor, said he hoped the comments would turn out not to have been by actual police officers. "If they are, it's disgraceful," he said. Indeed, it is difficult to prove that those calling themselves officers were so, or using real names, though The Times did match many names with those of officers.
A spokesperson for Bloomberg said the department is "investigating and will handle the matter appropriately, as they always do. If the comments reported are accurate and from the officers, they are completely unacceptable." But along with the other recent high-profile missteps by the NYPD, the Facebook scandal is contributing to the chipping away of Commissioner Kelly's long untarnished sheen. As Letitia James, a Brooklyn council member, put it: "I don't believe there is a clear message coming from the top that this behavior is unacceptable."
Update: "It is disturbing when anyone denigrates a community with hateful speech," Kelly said in a two-page statement on Wednesday. "It is unacceptable when police officers do it." The commissioner said that 20 officers are being investigated by Internal Affairs, which has begun "the process of interviewing those officers and, where necessary, subpoenaing computer records." Kelly added: "Despite the assertion of First Amendment rights in social media cases, the Police Department reserves the right to discipline behavior it determines unbecoming of a police officer if detrimental to the service, especially when it is disrespectful of communities that officers have taken an oath to protect."
Related: Ray Kelly's Many Problems [NYM]